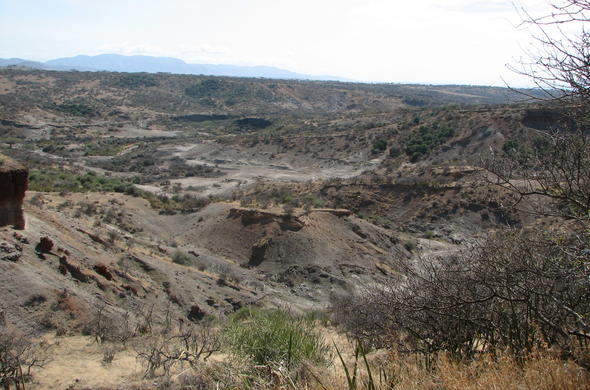 © Mary Leakey's most famous finds came from here, Olduvai Gorge
Although she enjoyed malt whisky and her favourite brand of cigars, Mary Leakey was above all an exceptional fossil hunter. She was also the matriarch in a family legacy that continues today.
Mary Leakey has been credited with a range of discoveries that have changed the course of scientific thinking in the field of archaeology and anthropology. Through her incredible body of work, the origins of early man were traced to Africa and more than one species was found to exist. At the time, these revelations were truly monumental.
The Early Years
Mary Douglas Nicol was born in London in February of 1913. She moved around with her family from place to place while her artist father painted landscapes for a living. The Nicol family travelled extensively and spent some years in the south of France where Mary was first exposed to prehistory.
Her interests grew from this point and led her to follow a career in archaeology which was an unusual choice for a woman at that time. Along the way, the road became rocky however when her father passed away when she was 13 and she returned to London with her mother. Mary had a rebellious streak and neither traditional schooling nor hired tutors could tame her.
Mary loved drawing and archaeology but without the required academic record she could not gain entry to university. Instead, she attended classes as an unregistered student in London and then worked on 2 long term digs as an illustrator. After some years, her excellent illustrations were noticed and she was asked to work on the books of a number of prominent scientists in England in the early 1930's - one of them was Louis Leakey.
Mary, the Fossil Hunter
Mary became romantically linked with Louis during an expedition to East Africa, which caused quite a scandal as he was married at the time. After his divorce from his first wife, Louis married Mary in 1937 and they relocated to Northern Tanzania. Mary's most famous finds came from Olduvai Gorge and Laetoli.
Without a formal education Mary went on to earn her place in the history books through her painstakingly archaeological work under the fierce African sun. The University of Experience was where Mary shone, not in the cloistered halls of academia.
She did not merely look at the surface for fossil evidence which was the common practice in anthropology at the time - she dug into the earth, sometimes extensively, and uncovered many things that had never been found before anywhere.
Her discoveries caused an upheaval in the established thinking about the evolution of early man. What was thought to be a single limb of evolution turned into a family tree when Mary found evidence of more than one species of early hominid living in the same ancient time frame.
The Contribution of Mary Leakey
Mary was intensely curious about the origins of mankind and pre-history. She was highly observant, scientific in her methods and meticulous in her documentation and descriptions. Every tiny detail about where she was excavating was recorded. She was renowned for her toughness and exacting methods.
Between 1937 and 1977, Mary's discovered fossils of 2 kinds of early hominid (primate) with marked evolutionary differences, the oldest dates back to 16 million years ago and the latter specimen dates back to about 1.75 million years ago. She then found the remains of another hominid but from a different genus with more humanoid features that lived at the same time as the second hominid.
In the 70's she found a trail of fossilised footprints that dated back past 3.5 million years ago, proving that early hominids walked. Apart from the aforementioned discoveries, Mary unearthed many stone tools (the likes of which had never been seen before) plus the remains of other early hominids and fossils of at least 15 new animal species. Mary Leakey made amazing discoveries, but it was her absolute dedication to her craft and the sheer depth of detail she recorded that built an impressive foundation for future archaeological students - she really set a high standard and was awarded many honorary degrees and awards during her lifetime.
The Leakeys
Louis was more charismatic and high profile, while Mary preferred to stay in the background and focus on her excavations. In later years, due to the nature of her work she was a bit reclusive, she loved cigars, malt whiskey and her pet Dalmatians and was not known to be overly talkative.
Her attention was on the actual work and not the evolutionary theories that were bandied about. She continued her work after Louis passed away in 1972. She died in December 1996 at the age of 83 and is survived by her 3 sons who continue with the family legacy in The Leakey Foundation.