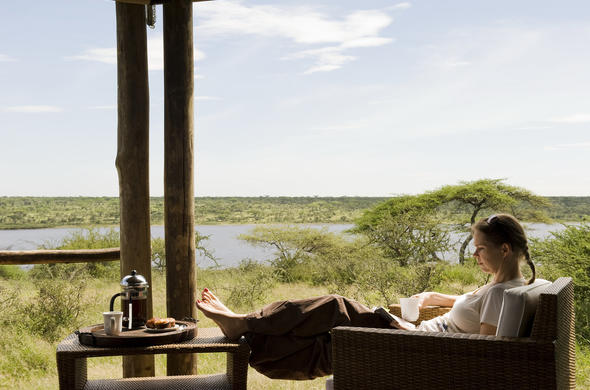 © Chilling out at Lake Masek Tented Camp
Gemma Pitcher, author of the new book Safari Living, a celebration of the style of Tanzania's safari camps, shares a few sartorial tips on how to look cool in the bush while on that safari holiday!
It may the romantic holiday of a lifetime, but a Tanzania safari can pose a few sartorial challenges for chicks who are more at home perched on zebra skin sofas at trendy bars than
surrounded by a herd of the real thing
. All the safari camps you'll be visiting are fabulously comfortable, as often as not with your own personal butler and an array of Molten Brown cosmetics in the shower, but to make sure you outshine even the most experienced safari goddess, take these insider tips on board...
Eyes
Take plenty of eye drops.
Contact lenses and dust do not mix
on long journeys, and eyes staring through binoculars can get dry and red. Slices of cucumber are old remedy that still works - nick one from the kitchen and cut it up with your Swiss Army Knife. Fabulous sunglasses during all daylight hours hide a multitude of sins. Take several pairs - moving from camp to camp they're the sort of thing that can get lost.
Hair
Most safari vehicles are open-topped and as often as not open-sided as well. This means you're close the scents and smells of the African bush and have the best view of the animals you're watching, but it also means you'll have the equivalent of a hairdryer on full heat blasting your head from all angles for several hours. It's a tricky look to pull off, but if you think you can get away with a headscarf, do it.
Greens or
sludgy browns are the best colours
and forget about silk scarves - cotton is the only fabric that's cool enough and has enough of a grip not to slip off every ten minutes. Once your drive is over, whip off the scarf and smooth your hair with a handful of your favourite serum or cream. If the scarf just isn't you, get a cute little
cotton cloche hat
or a battered leather Stetson, but make sure your headgear doesn't blow off into a herd of elephants and cause a stampede.
Clothes
Make sure you pack
one or two pieces of really warm clothing
- nights on a Tanzania safari are surprisingly chilly and in most hotels and camps, communal areas are open to the cold air. A voluminous, ethnic-looking blanket or poncho is more glam than your old zip-up fleece. If you're staying on the rim of the Ngorongoro Crater, be aware that the weather for most of the year is much like autumn in the Scottish highlands - you'll need to pack a proper coat and maybe a woolly scarf and hat too for those early mornings in the mist.
A pair of closed shoes is also essential
- those little jewelled flip-flops are fine for the beach, but get a pair of sturdy leather boots for the bush. Shorts are fine for daytime, but you'll want long trousers for the night, or for when the mosquitos have attacked your ankles the night before. White legs mark you out as a tourist - slap on the fake tan until you get your own.Red, shocking pink, yellow or other
brights are generally a no-no on safari.
Even in the evenings you'll look townie and brash. Likewise blue of any shade is said to attract tsetse flies, which bite. Beige, khaki, olive green, white or grey are the best colours to wear - black gets terribly hot in the daytime but is very useful for evenings as it goes with everything. If you're doing a walking safari,
forget about white
- it will be filthy in a second and you'll be conspicuous to the animals and birds you're trying to see.
Animal prints are simply not done - don't compete with the neighbours. Cotton and linen are the only real fabric choices - anything synthetic is far too hot. Don't worry too much about creases - all camps and most luxury mobile operations will iron anything you like when you arrive.
Jewellery
Ethnic, beaten gold or silver, beads and amber are best. Leave the diamonds at home - unless of course they're on your engagement ring.
Cosmetics
Foundation and bronzer are
useful for hiding dark circles
for getting up early and improving your sun-kissed cheeks. Lipstick and nail varnish shades should be muted; safari goddesses are not given to crimson lips or scarlet talons. Slapping on mascara will only make your eyes more irritated in the dust - whack on the designer shades instead. It goes without saying you'll need double the usual amount of moisturiser, all over.
Sleeping
The
tradition on a Tanzania safari
is for staff to bring your tea tray to you, in bed each morning prior to a game drive. So if you habitually sleep in the buff, you might want to change your habits and take along a pair of cotton pj's for the sake of their sensibilities...local bolts of bright cloth, known as kangas or kikois, are available everywhere and make good sarongs, impromptu picnic rugs or towels.
by Gemma PitcherCopyright © Gemma Pitcher 2004