13 Day Great Migration Safari in Tanzania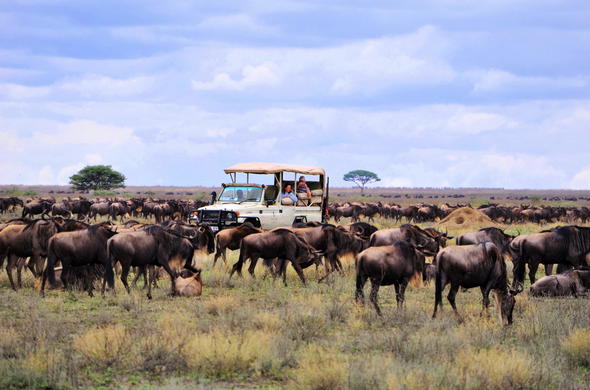 Migrate across the landscapes of Kilimanjaro, Arusha, Tarangire, Ngorongoro, Serengeti, Mayara and Zanzibar on this extensive premier 13 day Tanzania safari tour.
Tanzania Safari Tour Highlights
Accommodation: Room, tented suite, en-suite chalet, pavilion suite
Activities: Coffee estate tour, bush dining, water-based activities, game drives, walking safaris, hot air balloon safari. Optional activities include cultural tours and spa treatments
Destinations: Kilimanjaro, Arusha, Tarangire National Park, Ngorongoro Crater, Serengeti National Park, Lake Manyara, Zanzibar, Kilimanjaro
What to expect on this 13 Day Great Migration Safari in Tanzania
This deluxe tour of Tanzania takes you on an in-depth exploration of the landscapes and cultures that Africa consists of. Being transferred around the most commonly recognized regions of Tanzania as you experience the bush from within, accommodated in a variety of suites at the 6 lodges you will be visiting.
Explore the coffee farms of Arusha, the impressive herds of elephant in the Tarangire, the previously-volcanic crater rim of Ngorongoro, the famous Serengeti plains, Lake Manyara's sunset cruises, and Zanzibar's intimate beaches.
Bush dining forms an essential part of your visit to the bush - guaranteed to provide you with a scrumptious meal and unbeatable memories. Game viewing excursions will introduce you to various wildlife species ranging from the giant grey elephants to the tiny insects you will encounter on a walking safari.
Day 1: Overnight Arusha
View Lodge
Upon arrival at Kilimanjaro Airport, you will be met by a lodge representative and transferred by road to Arusha Coffee Lodge. Stay in a plantation cottage that has an en-suite bathroom, an open log fire and modern amenities. Optional treatments are available at the on-site spa, allowing your mind and body to relax before embarking on the journey ahead. A swimming pool is situated in the garden, where leisurely lunches can be enjoyed. After lunch join the Burka Coffee Estate tour where you will be shown how the coffee beans are grown, harvested, dried and produced into the final product.
Day 2 & 3: Travel to the remote Tarangire National Park
View Lodge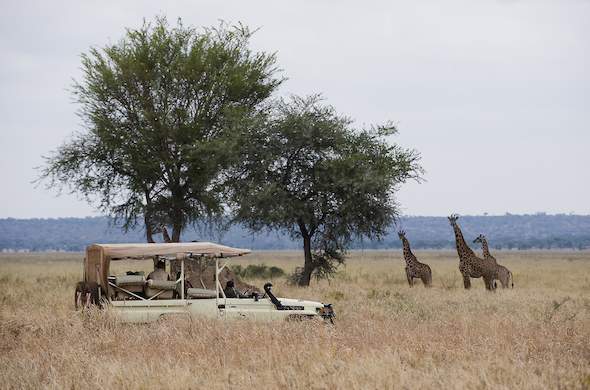 After breakfast head to Arusha Airport, where you will catch a flight to a Tarangire airstrip. There, you will be met and driven to Swala Camp situated in a secluded part of the Tarangire National Park. Welcoming you to utmost luxury, your personal attendant is available to serve your meals on your private veranda where you can enjoy views of the waterhole. Visit the main dining area that is placed on an elevated deck to provide you with superior views of the plains. Relax in the infinity pool as you monitor the waterhole for wildlife visits. Game viewing excursions may result in encounters with large wildlife species like the famous herds of elephants, smaller creatures like birds and insects, as well as the nocturnal wildlife of the bush.
Day 4 & 5: Explore the Ngorongoro Crater
View Lodge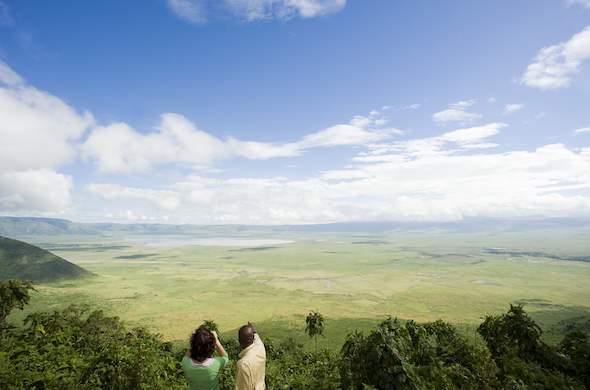 Say goodbye to the Tarangire as you make your way to the Ngorongoro Conservation Area. Board a flight to Lake Manyara. From here, you will be driven to Ngorongoro Crater Camp. The lodge's location in the Ngorongoro National Park allows for safe and plentiful game viewing excursions.
Game viewing might afford you with sightings of a variety of wildlife species, including zebra, buffalo, wildebeest, and hippo in addition to the predators, such as lions, leopards, hyenas and jackals, that reside in the crater as well as on the rim. Morning and afternoon game drives are included in your package, as well as cultural visits to a nearby Masai village.
Day 6 - 8: Follow the Migration in Serengeti
View Lodge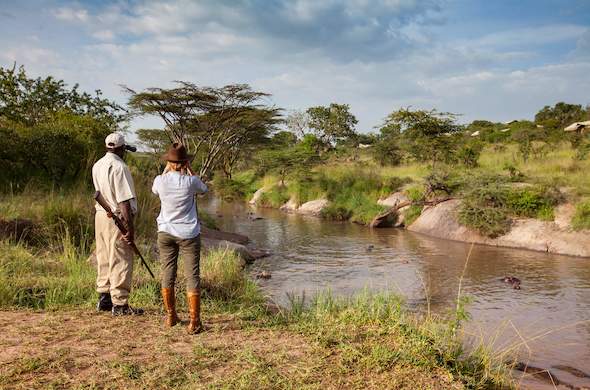 A light aircraft will deliver you to the Serengeti, where your journey will continue at Serengeti Migration Camp. This Tanzania safari lodge in Serengeti National Park benefits from an abundance of wildlife species as it is based on an ideal game viewing location, at the starting point of the Great Migration of wildebeest and zebra. Plan your stay during the migration and enjoy spectacular wildlife views.
Game drives in the Serengeti last for the majority of the day and may include sightings of the big five. An optional game viewing experience is a hot air balloon safari over the Serengeti plains. This trip will provide you with an aerial view of the landscapes and wildlife below as well as a picture-perfect memory of the Serengeti. Your final evening at the lodge will be spent under a ceiling of stars as you indulge in a bush dinner. Boma evenings enjoy alfresco dinners around a blazing campfire.
Day 9: See pink-hued Flamingos at Lake Manyara
View Lodge
An air transfer will deliver you to an airstrip in Lake Manyara. Located just outside Lake Manyara National Park, Escarpment Luxury Lodge will accommodate you in a luxury chalet that boasts views of the Great Rift Valley escarpment and/or the nearby lake from a private deck.
Game drives can be taken in Lake Manyara National Park as well as Ngorongoro Crater. Walking safaris in Lake Manyara National Park will bring you to encounters with the smaller creatures of the bush. Game species in the area include giraffe, buffalo, wildebeest, zebra and elephant. Strolling alongside the lake will bring you into views of the resident flamingos, pelicans and storks among a prolific list of bird species.
Manyara is also famous for its tree-climbing lions that can be spotted lazing on the branches of the mahogany trees. Optional activities allow you to explore the waters of Lake Manyara on either a canoeing or a fishing excursion. Qualified guides take you out onto the waters on a canoe and educate you on the fauna and flora surrounding you, in full view of a backdrop of pink flamingos.
Day 10 - 12: Relax on Zanzibar Island
View Lodge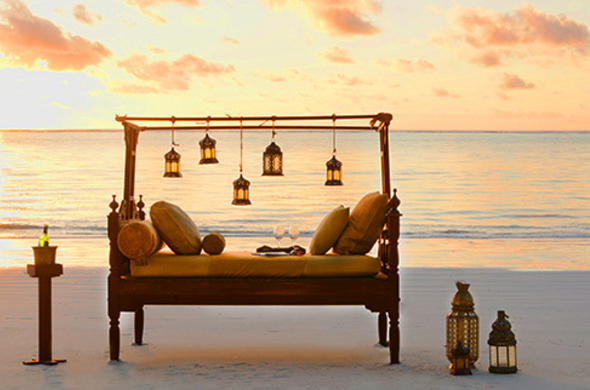 A scheduled flight will deliver you to a Zanzibar airstrip, from which a shared road transfer will deliver you to Kilindi Zanzibar. The following 3 nights will be spent on the north-west coast of Zanzibar in a pavilion suite nestled in a lush tropical garden. Your stay will provide you with utmost privacy and convenience as your private butler caters to your needs. Your suite has an en-suite bathroom with a rainfall shower as well as its own plunge pool and sun terrace.
Kilindi Spa offers a range of beauty and wellness treatments in the comfort of a tranquil setting. Spend afternoons at your leisure, sipping cocktails while occupying the pristine white beach and frolicking in the crystal-clear waters of the Indian Ocean.
Activities include kayaking and snorkeling. In addition to these included activities, you'll have the option of partaking in a wide range of water-based activities and day trips to Jozani Forest and Stone Town.
Day 13: Homeward bound
From Zanzibar Airport, you will board a light aircraft flight to Arusha. You will then be transferred by road to Arusha Coffee Lodge. At the lodge you can enjoy a scrumptious lunch before heading to Kilimanjaro Airport where you will board your onward travel arrangement.
Included
12 nights' accommodation at selected lodges and camps as detailed in your itinerary
Airport road transfers to and from Kilimanjaro International Airport
Light aircraft air transfers between your camps and lodges
Road transfers to and from your camps, lodges and airstrips
Select local branded drinks including bottled water, soft drinks, beers, spirits & liquors, house wines
All meals while travelling including breakfast, lunch, dinner and bush meals
Burka Coffee Estate Tour
Dinner Under the Stars
Snorkeling & Kayaking
Game drives with qualified and experienced guide and trackers
Park and conservation fees
Daily laundry service
Not Included
International flights to and from Tanzania (Kilimanjaro International Airport)
Medical Evacuation Insurance
Optional activities not listed above
Spa treatments
Travel insurance
Premium drinks (champagnes, cognacs, single malt whiskeys and wines from exclusive cellar wines)