Okavango Horseback Safari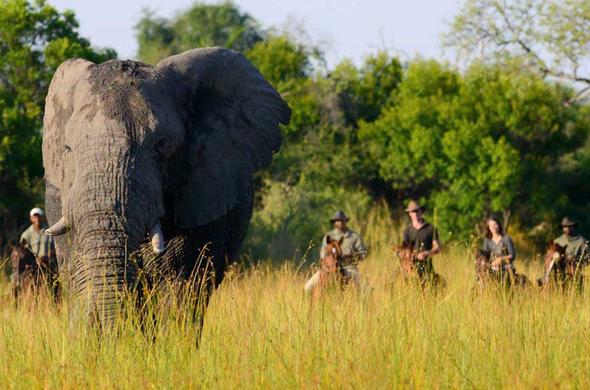 Explore the Okavango Delta in Botswana on horse back. With a horse back safari through the Okavango Delta you experience a different view of the landscape, stopping to watching African wildlife and birds.
Saddle-Up for the Ultimate Horseback Safari Experience
A horseback safari through the Okavango Delta offers you the unique opportunity of exploring the Delta landscape, across floodplains and grasslands, on horseback, while still experiencing the popular activities of mokoro boat rides, day and night game drives and walking safaris. Galloping through the floodplains on horseback is both an intimate and exhilarating experience and a wonderful way to gain an even greater insight into the African bush and the wildlife that inhabits it. Horseback safaris are manageable by riders of all levels of experience and skilled guides will be with you to ensure that the right horse is matched to your ability.The first day of the safari is usually slow and relaxed, giving you time to settle in to your accommodation and relax after your journey to the camp before setting off on an evening ride where you will have the chance to meet and get acquainted with your horse, which you will be with throughout your entire safari stay. After a relaxed dinner, a good night's sleep and an early morning start it is time to climb onto your horse and let the adventure begin, as your guide and tracker lead you out into the bush, tracking the Elephant or Bush-buck that passed by the camp that evening.
Across the Okavango by Ian Micheler
Wandering across the savannah one morning you may catch sight of the breakfast table that has been set up for the group under the shade of a baobab tree. A lazy champagne breakfast follows before you return to the camp for a restful afternoon. The following days are spent wandering through the changing landscape, watching a herd of Elephant down near a watering hole or a family of Giraffe slowly eating leaves off a nearby Mopane tree. The contrasts of the landscape from floodplains with their scattered islands to Mopane forests are so picturesque you will want to stay forever.You can expect to spend between 4 - 6 hours per day on your horse however these hours are broken up with many stops along the way. As you grow more comfortable with your horse the riding speed may increase as you find yourself crashing through the waters in the floodplains in search of Wildebeest or Zebra.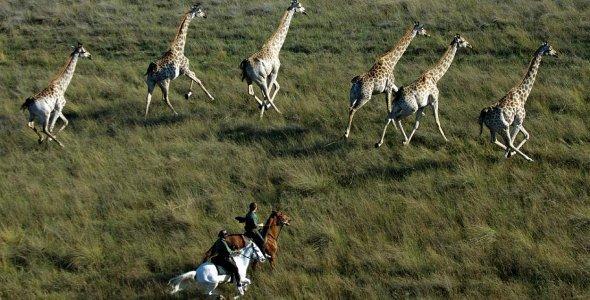 The floodplains are also home to a wide variety of bird species that greet you with their calls as you ride past. There is nothing more exhilarating than racing freely with a herd of game through the grass, galloping alongside the Lechwe as the Hippos watch from the deep waters. Evenings are relaxed with a slow ride out to see what African game you can see before stopping for a sun downer drink and some snacks. Occasionally you will be able to take a break from the horse riding as your guide herds everyone onto the game viewing vehicle and you encounter new and exciting nocturnal animals such as Bush Babies and Porcupines, sitting still and watching by the light of a spotlight.Find out about our
Okavango on Horseback Safari Tour