Fishing at Chobe Savanna Lodge,Chobe National Park, Botswana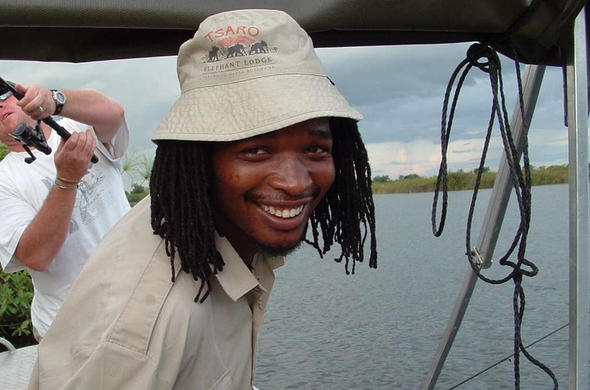 The mighty Zambezi River snakes it's way through Zambia, touches on Namibia and briefly passes Botswana, here the brackish waters of the Chobe meet the Zambezi to head down to Victoria Falls.
Review by Gareth Coombes
Savanna Lodge is situated on the Namibian side of Chobe River opposite Botswana's
Chobe National Park
which is well known for it's large heards of Elephant and buffalo, which can be sighted throughout the day. Being based 35 minutes up stream from the
Zambezi and Chobe confluence
one can fish the productive waters of the Chobe around the lodge or take a day trip up the great Zambezi.The Chobe and Zambezi Systems are a true watery wilderness, teaming with wildlife and
a large variety of fish species
. It is an ideal place for the adventurous angler, both conventional and fly fisher to experiment in catching many different species on light tackle.Our main quarries here are the numerous large colourful bream species, catfish, pike and
the elusive tiger fish
which is world renowned for it's fierce fighting capabilities and has earned the reputation of being one of the world's toughest freshwater fish to subdue, a true acrobat taking long runs throwing it's body out of the water shaking its head endlessly trying to dislodge any hook that comes into contact with it's bony jaws, with the lodges'
record standing at 16,5lbs
, larger fish have been seen.
Fishing for Tigers at Chobe Savanna Lodge
Fishing methods vary, with lure fishing being
the predominant method
used. The large bream species like the nembwe's (olive bream), thin faced largemouth, humpback largemouths and three-spots breams take artificials readily. You can also take earthworms and probe the lesser-known backwaters and
lilly padded lagoons
in search of the many vegetarian species of bream like the green head and pink happy's, which attain fairly large sizes and put up a good fight.The lodge has a
number of boats for hire
with experienced fishing and bird guides, who have extensive knowledge of the area. Fishing tackle can be arranged at the lodge on request, but you are advised that it is always better to bring your own gear.