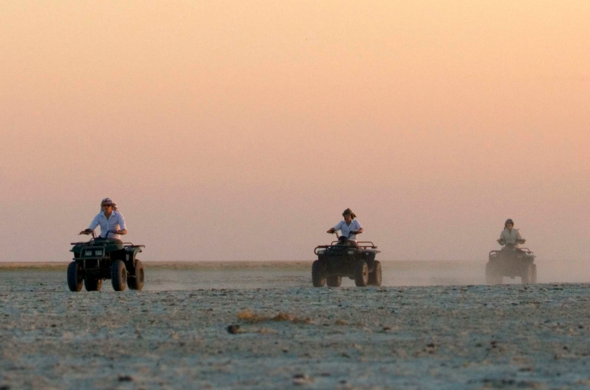 © See beautiful sunsets on a quad biking safari in the Makgadikgadi salt pans.
Adventure seeking travellers embarking on a visit to Botswana should not miss the excitement of driving through the white clay Makgadikgadi Salt Pans on a quad biking. A popular tourist attraction while on safari in Botswana, racing through the landscape on a quad bike is a must-do excursion.
Quad biking in the Makgadikgadi
Space, miles and miles of still, endless space. Silence, vast, engulfing, unbroken.
Space and silence are what await you when you visit the Makgadikgadi Salt Pans, but what better way to break the silence and explore the endless space than by racing through the landscape on an exhilarating quad biking adventure across the salt plans?
Situated in an area known for its hot and dry climate, the salt pans are a landscape of dry and salty white clay that stretches out across to the horizon of as far as the eye can see, except for a few months of the year, during the rainy season (between November and May) when they are transformed by lush green grasses and pools of algae water.
Vast Salt Pans that Create a Lunar Landscape
One of the largest salt pans in the world, the Makgadikgadi Salt Pan is located in the north-eastern section of Botswana southeast of the Okavango Delta. Technically made up of many pans, not just one single pan, the Makgadikgadi is what remains of the enormous Lake Makgadikgadi that spanned the area thousands and thousands of years ago.
Feel the Rush
Given the sheer expanse of the pans, one of the best ways to explore the area, and most exciting ways, is to climb upon a quad bike. A 'must-do' activity, quad biking through the Makgadikgadi Salt Pans is a safari excursion you are unlikely to forget. After a quick briefing from your guide about how to use the bikes and safety precautions you travel full tilt across the pans, in single file, basking in the space and open nothingness. It is seldom in one's life that you can drive fast, in a straight line for miles without any obstacles in your way.
Listen to your Guide telling you about the Regions Mysteries
After you have had time to enjoy the freedom of your surroundings, your enthusiastic guide will teach you more about the history of the pans and the forces that created them before showing you some of the anthropological artefacts that the early inhabitants to the area; the San, left behind.
Around the outskirts of the Salt Pans you should keep your eyes peeled for wildlife as you might be lucky enough to spot some of the animals that have adapted to the harsh environment including Aardvarks and maybe even Lion.
Overnight quad biking excursions are also available and your guide will lead you either into the middle of the pans or out to Kubu Island a geological feature that's stands out starkly from the flat land around you. There are no animals or insects in the middle of the pans, and visitors will be able to spend the night under the stars, as far or as close to the guide and rest of the camp as they wish.See exciting
Makgadikgadi Pans Safari Package