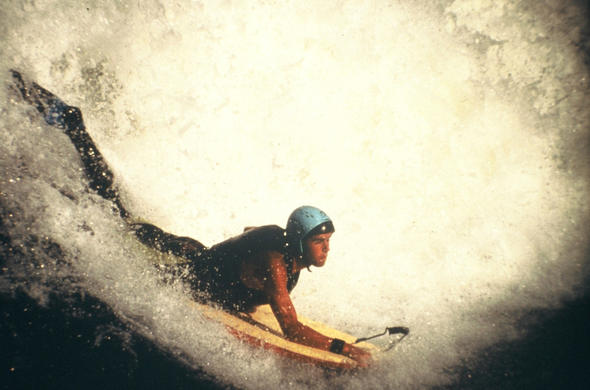 © River boarding at Victoria Falls
Ever heard of Whirlie Riding and Squirts? This is body-boarding lingo for the ultimate adventure on the Zambezi River. You can charge the rapids and surf the waves at Victoria Falls on a River Boarding adventure - no experience required!
Livingstone in Zambia is the "Adventure Capital of Africa" - the list of fun things to do here while visiting the Victoria Falls is endless. Exciting water sports take place at the base of the thundering falls during most of the year. Apart from White Water Rafting, Kayaking and Jet Boating you can also have a go at body boarding on the mighty Zambezi River.
River Boarding differs from White Water Rafting in that you are in charge of your own board - it's just you facing some of the biggest freshwater standing waves in the world. The gorge below the Victoria Falls is where it all goes down so to speak... this is the Boiling Pot! While trying various manoeuvres which you have learnt, you'll experience a great sense of freedom in the water.
Who can do it?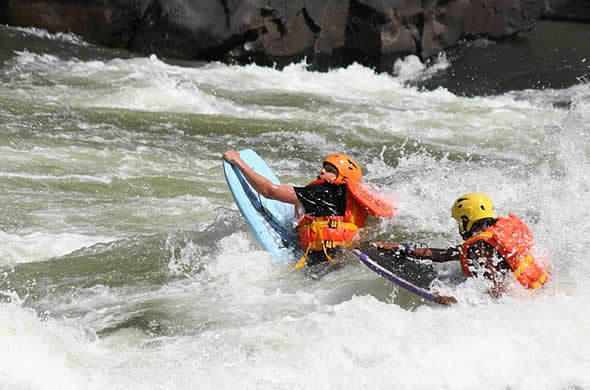 You'll need to be able to swim, have good water confidence and be reasonably fit. Generally if you can fit securely into the River Boarding equipment and you are 13 years or older, then you can take part. If you really enjoy being in the water and feel relaxed in this environment then this is for you.
The Experience

The day begins with return transfers from a meeting point or your Livingstone lodge to the gorge (pre and post refreshments may be part of the tour). There will be a briefing on what to expect after which you will be fitted with suitable River Boarding equipment (such as a wetsuit and life jacket, helmet and footwear).
At the riverside there will be a short safety and river talk before you get into the water and practice the river surfing techniques. Once everyone is comfortable, you will swim into the main flow and your surfing safari begins. River Boarding takes place on shorter sections of the river, wherever there are good "play spots".
Along the way you will encounter Rapids which you will surf through, providing quite an adrenaline rush especially when the river is high (January to August); Standing Waves, which offer a unique take on traditional surfing; Whirlie Riding opportunities where you drop into whirlpools on your board and spin around, plus Squirts, which allow you to "fly" underwater by riding boil currents.
This exciting Zambezi River experience can be combined with a range of other great activities such as Bungee Jumping, Gorge Swinging and Abseiling for adrenalin pumping days.
Did you know?
The Zambezi River flows over the Victoria Falls which is almost 2km wide, at a rate of 500 million cubic metres per minute in peak flood season, dropping 100 metres into the gorge below. Above the falls you can enjoy game viewing on relaxing sundowner cruises, while below the falls it is all action packed adventure on the water and in the Batoka Gorge.
For more information and bookings, please contact a Siyabona Destination Specialist.