Zambia Travel Guide | Elephant Back Safari Experience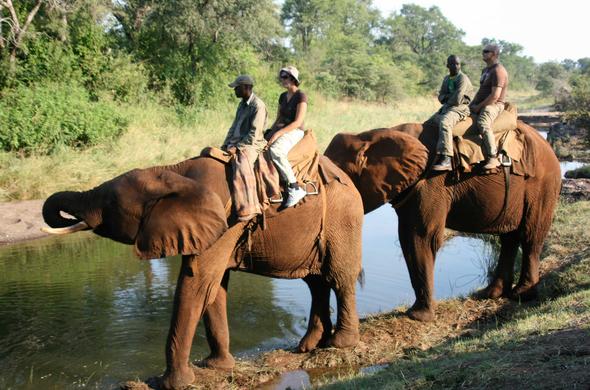 Riding on the back of an Elephant is awesome in so many ways, but when you do it on safari in Zambia, you make it a very special experience indeed. You'll feel like a film star and a pioneer as you set off into the wilderness atop such a powerful animal.
You cannot Come to Vic Falls and Not Do This
What strikes you first about your Elephant encounter is the immense size and strength of these giants of the bush. The adults display a quiet demeanour and measured movements while the younger ones gambol about, exploring and playing.
You'll meet and greet the herd and be able to feel their amazing trunks. When you are introduced to the Elephant you will ride, you'll discover his or her personality and character in a very personal way which is quite moving. When you connect with the herd you'll get a sense of their innate wisdom and intelligence. The herd's bonds with each other are all important - how they communicate and interact with one another is fascinating. The herd is led by the most experienced female.
On Safari
There is something majestic about sitting on the back of an Elephant. You can really see your surroundings over some distance from such a height. For all their bulk and strength, the Elephants can silently move through the bush.
In fact, one of the most notable features of being in the wilderness is that you become attuned to the quiet, with only your breathing and the voices of others being the most audible at first. If you encounter other wildlife your scent will be masked by your Elephant which means you can pass by unnoticed and get a good look at the game.
Along the walk you can enjoy views of wonderful scenery. The African bushveld varies from dense forest to open grasslands. Beautiful sunrises and sunsets will be unforgettable as you amble along in this expansive landscape. While on your Elephant Back Safari you'll be able to watch the herd interact with the group and the handlers, eat, play and even swim in the river. Even if only for a short while, you'll be part of a unique inner circle.
Where to Go
Guided Elephant Back Safaris take place in the
Mosi-oa-Tunya National Park
in Livingstone, which is on the Zambian side of the Victoria Falls. The safaris set off in the very early morning and again in the late afternoon. There is a number of rest stops en-route and the safaris take a few hours to complete. This park is home to a wide variety of wildlife but there are no predators, so the animals are quite relaxed and easily seen.
Elephant Back Safari Package
See our
Elephant Safari in Zambia
holiday package
Concerns over Elephant Abuse
In recent years there has been concern over the possible abuse of Elephants used in Elephant-back safari tours. Siyabona Africa strives to always use reputable local tour operators with good reputations within the tourism industry. Most Elephants used in Elephant-back safaris have been rescued as orphans and raised to be habituated around people. If you have any concerns over the training methods used in Elephant-back safaris but still want the experience of meeting elephants, you can opt for Elephant Interaction Tours. You will be able to touch and feed elephants and learn more about them by their caregivers.