National Parks of Tanzania | Safari Guide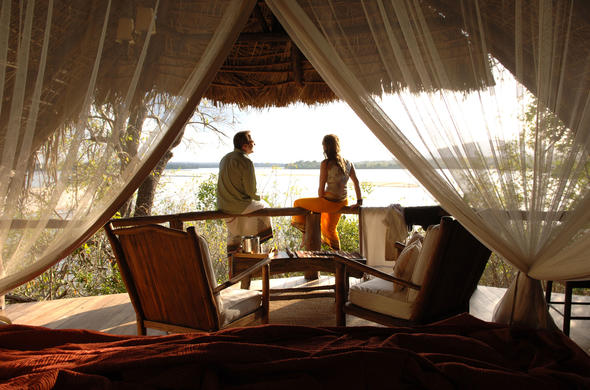 Southern and western Tanzania hosts many National Parks and reserves from the largest, Selous Game Reserve, at 50 000sq/km to the smallest, Gombe Streams National Park, at 52 sq/km.
Gombe Streams National Park
At 52 km2 Gombe, situated on Lake Tanganyika, is Tanzania's smallest national park and home to the pioneering work of the famous researcher Jane Goodall. She began studying the chimpanzees of Gombe in 1960 and the work continues today. The park also has other primates such as the olive baboon and species of colobus monkeys. Gombe National Park can be visited via lake-taxi or speed boat from the town of Kigoma. Explore the region when you stay at
Gombe Forest Lodge.
Katavi National Park
Named after the legendary hunter Katabi - whose spirit is said to inhabit the park - Katavi lies in an off-shoot arm of the western rift of the Great Rift Valley. Most literature on the park speaks of an isolated, wild and undeveloped area, left as it was hundreds of years ago - and this is what it is. Well known among the few who have been there for its hippos and crocodiles, Katavi however promises much more than a wildlife experience. What the park offers is an experience found nowhere else in Africa today.
Ruaha National Park
Described by a renowned researcher as 'of all the faunal preserves it is the park of the future', Ruaha is living up to its reputation. Hard hit by poachers in the 1980s the park has returned to its natural state and is now considered one of Africa's greatest wilderness areas. Rivaling Katavi in unspoiled wilderness, Ruaha is more accessible, although still not easy to get to. Tanzania's second largest park supports a great number and diversity of wildlife.
Selous Game Reserve
If southern Tanzania is the next big thing in Africa then Selous Game Reserve is its flagship and up to now has remained virtually isolated from major tourist development. The largest game park in Africa, the Selous, together with Ruaha National Park, makes up one of Africa's greatest wilderness areas, not only in size, but in diversity and experience. Vast, remote and pristine, the area is only now slowly gaining a reputation in the African safari industry.
Saadani National Park
Elephants on the beach! At the newly proclaimed Saadani National Park this is a possibility. As the only East African park to be situated on the Indian Ocean, Saadani provides a unique combination of bush and beach holiday. Beautiful beaches and wildlife combine in this park once decimated by poaching.