Iconic South Luangwa Safari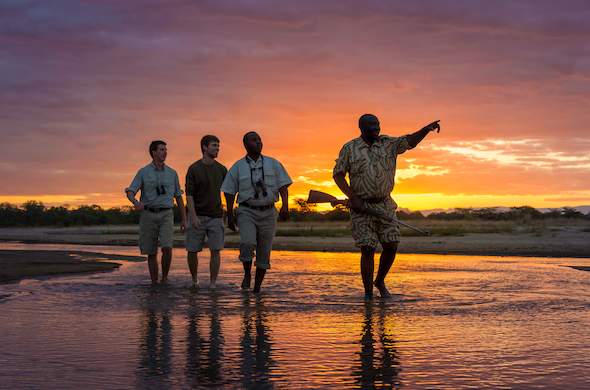 This classic 9 day tour of South Luangwa National Park is ideal for couples and those seeking adventure in the offbeat areas of Zambia during the region's famous walking safaris.
Zambia Safari Package Highlights
Accommodation: Thatched en-suite chalet, tented suite, en-suite tree-house
Activities: Game drives, guided walks, bird watching, bush dining
Destinations: Lusaka, South Luangwa National Park, Lusaka
What you can expect on this South Luangwa safari in Zambia
Zambia accommodation during a safari in the South Luangwa National Park is secluded and intimate, offering an exhilarating safari experience in the place where the walking safari was pioneered. Walking safaris are an exciting way to relive the past, a way to follow in the footsteps of the great explorers. These safaris by foot are the opportune chance to walk as primitive man did, among the untouched earth, in and amongst the last of the great bastions of wildlife.
High standards and personal attention to detail makes this Luangwa safari vacation an unmatched experience. The combination of adventurous walking safaris, coupled with the opportunity to spoil yourself with hot refreshing showers and exceptional hospitality at each camp makes this the ultimate Zambia safari vacation.
Day 1: Lusaka - South Luangwa National Park
View Lodge
Arrive at Lusaka Airport and board a connecting flight to Mfuwe Airport. Here, a representative will meet you and take you on a 45-minute road transfer back to Mfuwe Lodge. This Zambia safari lodge is situated inside the South Luangwa National Park and is well known for its abundance of elephants that wander through the camp grounds each November.
Nestled under the branches of ebony and mahogany trees, this Zambia safari lodge is drenched in wildlife wonder thanks to its superb location. Occupying the banks of two lagoons, the lodge's suites witness an abundance of wildlife in and around the water. Whether you spot wildlife unexpectedly whilst relaxing by the pool, or venture out on a game drive or walking safari in search of them, seeing these free-roaming creatures will always be an exciting occurrence.
Prolific game includes buffalo, antelope, giraffe, elephant and the crocodiles and hippos that occupy the water and the banks of the lagoons. Bird watching is also a popular activity and a large diversity of birds can be spotted.
Interact with the local inhabitants as you visit their village and witness their trading methods at the many markets operated by the native Zambian people. Return to the lodge after a day out and be seated in the dining room or at the outdoor dining area for an alfresco feast around a blazing campfire.
Day 2 - 3: South Luangwa National Park
View Lodge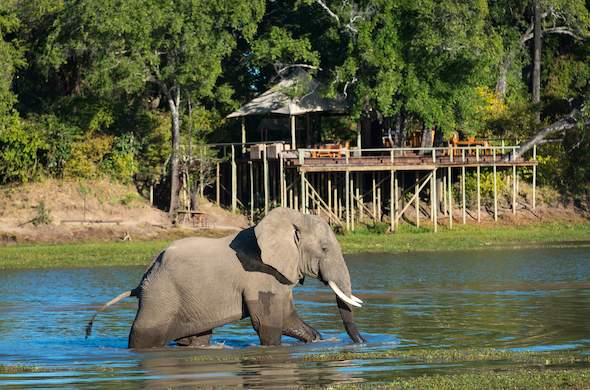 After enjoying a scrumptious breakfast prepared by the friendly staff at Mfuwe Lodge, you will depart on a road transfer of 2.5 hours to Chindeni Bushcamp in the southern part of the South Luangwa National Park.
Spend 2 nights of your Zambia safari in a tented suite at this Luangwa safari lodge, viewing the game from your own private raised wooden decking over the still waters of the lagoon. Surrounded by majestic hills, shaded by ancient ebony trees and nestled on the apex of an oxbow lagoon, Chindeni helps weave the spell that is Africa.
Game viewing takes place in various forms: day and night game drives, guided walks, and bird watching. The game drives are taken by trained and experienced guides and rangers in specialized safari vehicles. Early mornings and late afternoons are the best times to venture out into the bush, as the wildlife is at its most active. Some of the best animals can be spotted within the South Luangwa, including elephants, wildebeest, giraffes and crocodiles.
Day 4 - 5: South Luangwa National Park
View Lodge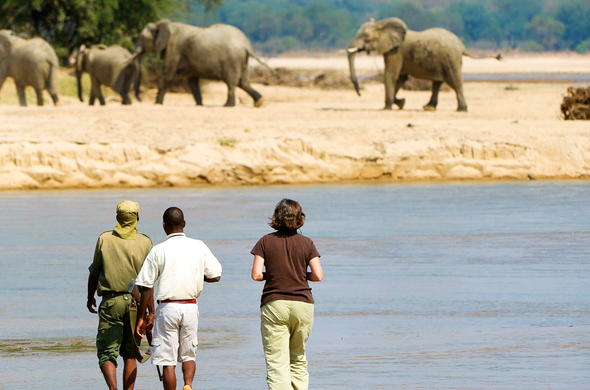 A departing road transfer will take you to Kapamba Bushcamp on the banks of the Kapamba River in another part of the South Luangwa National Park. Here, you will be accommodated in an en-suite chalet adorned by elegant furniture. This private suite has its own plunge pool and views of the river which is often occupied by numerous elephants.
Spend your days out in the bush on game drives and guided walks into the wilderness surrounding the camp. Game rangers and guides will drive you into the unknown in specialized safari vehicles, or choose the most natural option and venture out into the wild on foot. Identify the spoor left behind by the nocturnal creatures and track the prints to possible sightings of the free-roaming wildlife.
Capture this raw, unspoilt wilderness on film as you venture through the bush with a pair of binoculars and a camera or video camera on hand. Spend your evenings sharing your experiences with the staff and fellow guests around a blazing campfire.
Day 6 - 8: South Luangwa National Park
View Lodge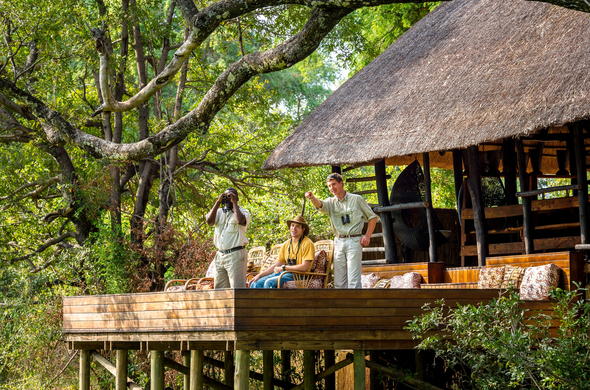 Chamilandu Bushcamp provides a unique experience from tree-houses that share views of the Luangwa River with the canopy of trees. Open to a 180 degrees vista, the front of each tree house chalet provides the exciting frame for all of Luangwa Valley's diversity. A series of seven ox-bow lagoons yield dramatic habitat changes and attract an abundance of wildlife.
Guided walking safaris and game drives will witness uninterrupted animal activity. The river is home to hippos, crocodiles and a variety of bird species. Elephant herds visit the waters for an afternoon of refreshment before returning into the thickets of the bush.
Enjoy a sundowner from the banks of the river before preparing for a night of feasting around a romantic campfire. Alfresco dining is a magical experience that serves you with a menu of international dishes with a local influence.
Day 9: Lusaka
On the final day of your Luangwa vacation, you will depart from the lodge in a road transfer to Mfuwe Airport. Here, you will board a flight to Lusaka Airport, where you will meet your onward travel arrangements.