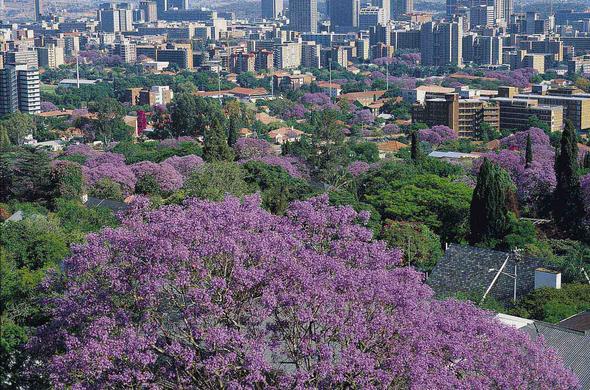 © Pretoria the Jacaranda City
South Africa is marketed as 'the world in one country' with attractions ranging from the Big 5 to whale and shark viewing and from spectacular mountain scenery to some of the world's best beaches.
Capital: Pretoria is considered the official capital of South Africa, with Cape Town been the parliamentary capital and Bloemfontein the judicial capital
Languages: As of the 1990's South Africa has 11 official languages with English considered the language of [choice].
Best time to visit: South Africa is a year round travel destination with something to please travel connoisseurs at any time of the year. The summer months of October - April could be considered as the peak months.
Currency: South African Rand [R]
Date of independence:
The Union of South Africa was formed in 1910 when the two Boer Republics of the Orange Free State and the Transvaal joined with the British colonies of the Cape and Natal. South Africa split from the British Commonwealth and formed a republic in 1961 due to the heavy scrutiny of the country's apartheid policies and the Republic of South Africa came into being.
Majority rule was achieved in 1994 with Nelson Mandela as the first President.