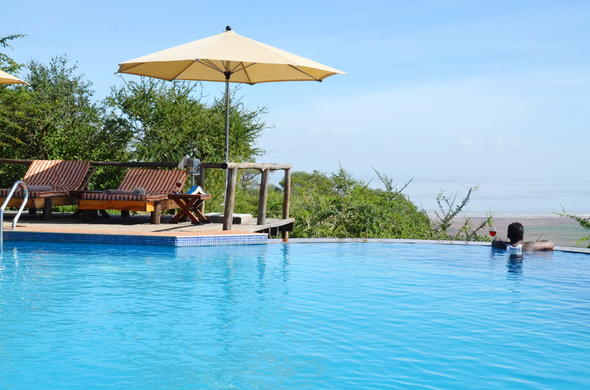 Enjoy a luxurious and comfortable stay in a private chalet that has breathtaking views of Lake Manyara and its wildlife activity. Your stay on the escarpment will offer you a variety of outdoor activities, aimed at exploring the wilderness in its natural form.
Your Lake Manyara Safari in Tanzania Experience
En-suite chalet with a private viewing deck
Unfiltered views over Lake Manyara, the gorge and Ngorongoro Crater
Game drives into Lake Manyara National Park and the Ngorongoro Crater
Tree-climbing lions decorate the mahogany trees, creating a unique sight
The area is decorated by baobab trees that are frequently visited by the resident elephants, while the mahogany trees prove to be the resident tree climbing lions favourite spot during the rainy season. Lake Manyara is an active hub of wildlife activity, boasting sightings of various species such as wildebeest, zebra, leopards and water wonders like hippos and a bird life of flamingoes and pelicans.
Explore the waterways of Lake Manyara in a canoeing excursion or meet the underwater wildlife species in a fly fishing trip. The lake's shores are often graced with the presence of photogenic flamingoes creating a horizon of pink feathers.
Hide away in your private en-suite chalet that spoils you with a relaxing stay at Sanctuary Escarpment Luxury Lodge. Decorated in authentic African crafts, your stay in a single, double or triple room will be ideal for a range of travellers from individuals to small families.
Enjoy generous servings of traditional African dishes or more recognized meals as you dine at the lodge's shared dining area, or occupy the wilderness while indulging in sundowner cocktails. Spend your evenings around a campfire during an alfresco boma dinner, creating memories that will be engraved in your heart for a lifetime.
Your Tanzania safari lodge accommodation
Private chalets with en-suite bathrooms
Best time for this Tanzania safari
This is an all-year travel destination, with December - February and late June - early October being the best times to visit
Child Policy
Children aged 12 years and older are welcome at the lodge