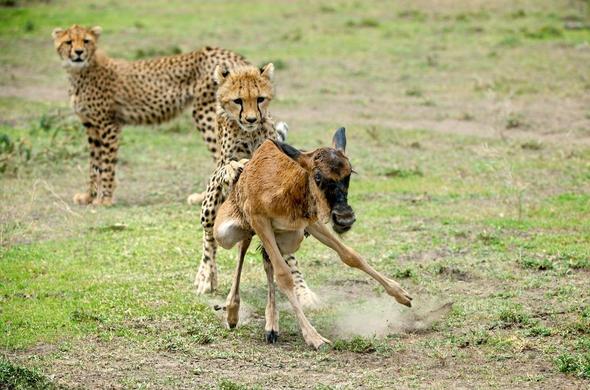 Serian Serengeti South in Tanzania safari activities include twice daily game drives, walking safaris and fine dining in the candlelit mess tent.
Game Drives
Game excursions at Serian Serengeti South are a thrilling and unpredictable experience. World-class guides take guests of Serian Serengeti South on epic bush drives through the vast and wonderful bush in specially adapted safari vehicles. The excursions are conducted twice a day, and guests can sit back as the professional guides drive off-road to bring them the best Tanzania safari possible.
Among the roamers of the bush that can be spotted on bush drives are wild dog, thousands of wildebeest, cheetah, hyena and many more. Birthing season gives guests perfect opportunity to witness the birth of an abundance of wildebeest.
Walking Safaris
What sets the nature walking safaris at Serian Serengeti South apart from the rest is the fact that it is led by Hadzabe hunter-gatherers. Spoor track an abundance of wildlife, including a myriad of antelope and other incredible bush roamers.
Dining
An evening of spectacular dining can be delighted in the candlelit mess tent. Sumptuous meals are also served for breakfast and lunch. Fragrant cups of tea and coffee with home baked goods can be savoured on action packed morning game drives, and on afternoon safaris drinks and canapes are served.