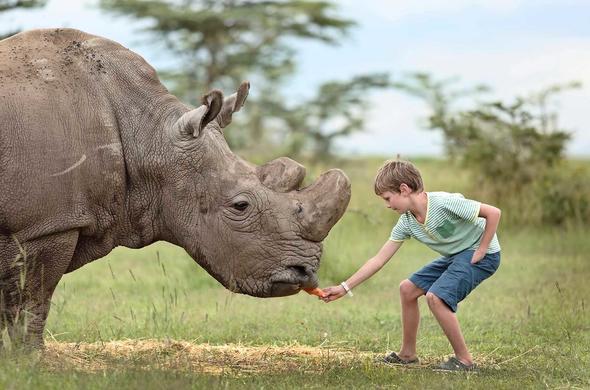 © Rhino interaction at Ol Pejeta Bush Camp and Conservancy
Kenya FAQ answers your frequently asked questions about Kenya safari travel. Read about Kenya travel tips...
Where is Kenya located?
Kenya is located in East Africa, nestled between Somalia to the north west and Tanzania to the south. Neighbouring countries include Ethiopia and Sudan to the north and Uganda to the west.
How big is the area of Kenya?
Amboseli National Park - 390 km² (150 mi2) in size at the core of an 8,000 km² (3,000 mi2) ecosystem
Lake Nakuru National Park - 168 square kilometres
Masai Mara - 1510 square kilometres
Samburu National Park - 104 square kilometres
Tsavo East National Park - 11,747 square kilometers, one of the oldest and largest parks in Kenya
Nairobi - 684 square kilometers
How big is the Population?
The population of Kenya consists of 32 major indigenous African groups, five of which making up 70% of the entire population. These groups include Kikuyu, Luo, Luhya, Kamba and the Kalenjin. Ethnic minorities include Arabs and Asians.
What is the time zone of Kenya?
The standard time zone in Kenya is 3 hours ahead of Greenwich Mean Time. No daylight saving time in 2007.
What is the Capital City of Kenya?
Nairobi (pronounced /naɪˈrəʊbɪ/) is the capital and largest city in Kenya, and popularly known as the 'Green City in the Sun'. Nairobi is also the capital of the Nairobi Province and of the Nairobi District.
Nairobi is located on the Nairobi River in the south of Kenya and is the most populous city in East Africa, with an estimated population of 4 million. Nairobi is also the fourth largest city in Africa.
What is the climate like in Kenya?
Kenya lies directly on the equator and has a tropical climate. It is hot and humid in the coastal areas and temperate inland and very dry in the north and northeast parts of the country.
What is the best time of the year to visit Kenya?
Kenya is a great year round destination, with the main tourist season being in January and February. During this period the weather is hot and dry and is generally considered quite pleasant.
This is also a time when flocks of birds arrive in the Rift Valley, offering a kaleidoscope of colour and sound. Between June and September the weather is still dry, with the rains coming from March to May. During the rainy months things are quiet, with hotels and lodges having many rooms available and prices tend to decrease.
What type of Government does Kenya have?
Kenya is a democratic republic and is governed by the current president Mwai Kibaki, who is both head of government and head of state. Executive power is put into effect by the government and legislative power is vested in both the government and the National Assembly. The Judiciary is independent of the executive and the legislature.
What is the local currency?
The official currency of Kenya is the Kenyan Shilling (KES), comprising of 100 cents. Coins are in denominations of 5c, 10c, 50c, 1 and 5 shillings. Banks notes are in denominations of 5, 10, 20, 50, 100, 200, 500 and 1,000 shillings.
Foreign currency being imported into the country is unlimited and does not have to be declared on arrival, however, the importation and exportation of Kenyan shilling is illegal.
What are the Bank Opening Hours?
Banks are usually open from Monday to Friday from 09:00am to 14:00pm (16:30 in bigger cities). Banks at the airport stay open until midnight.
How much should I Tip?
Most of the major hotels and restaurants in Kenya include the tip in their service charge. Tipping is not essential, but appreciated, and entirely at your discretion. Porters at airports, hotels or lodges can be tipped about $1 per piece of luggage.
At restaurants, it is customary to tip waiters and waitresses 10% of the bill. On safaris, however, tips are expected and considered almost part of the pay. Tip your guide $2-$5 per person per day.
What safety issues should I consider while traveling in Kenya?
Always stay alert when walking or driving through the major cities, especially Nairobi. If possible, always ensure that you have a guide with you when exploring these areas. Nairobi has been nicknamed 'Nairobbery' as even daylight muggings in crowded areas are not uncommon.
Avoid walking after dark and displaying your wealth, including carrying cell phones, MP3's, laptops and camera's in full view. The bus from the airport to downtown is a well known target for pickpockets. Women travelers should avoid traveling alone.
The North of Kenya has a reputation for lawlessness, becoming more dangerous the closer you get to the Sudanese, Ethiopian and Somali borders. Armed robberies and abductions by bandits on the roads are frequent in these areas. If possible, avoid travelling to these areas. The towns of Lodwar, Lokichokio and Moyale are best avoided by tourists.
What is the Country Dialing Code of Kenya?
In major cities, international direct dialing should be available, but quite expensive. Local and international phone calls can be made from public phone boxes, although they are hard to find. The number for the international operator is 0196.
Can I use my Cell/mobile phone in Kenya?
In Kenya you will be able to buy prepaid (pay-as-you-go) SIM cards that are cheap and easy to use. Top-up or refill vouchers are widely available in all hotels, newsagents, supermarkets and shops. North American and Japanese phones may not work in Kenya.
Is there internet connectivity?
Most of the lodges, resorts and hotels will have internet access.
What other public communications media is there?
Kenya has a good communication system. Telephone, fax and email services are available in the cities, but could be slow and time consuming.
The post system of Kenya is quite effective, taking a week to 10 days to send a post overseas. Post and telephone offices are usually open Mondays to Fridays from 08:00am to 13:00pm and from 14:00pm to 16:30pm. Some may be open on Saturdays.
What plugs and power voltage is used in Kenya?
The local electricity supply is 220/240 volts AC, 50HZ and plugs are 3 point square. Please bring along voltage and plug adaptors if you intend bringing electrical devices. Major hotels usually provide hairdryers, irons and other electrical equipment on request.
What are the weights and measures in Kenya?
In Kenya distances are measured in kilometres and weight is measured in kilograms.
What are the Visa and Passport Requirements?
Please check with your local Kenya embassies regarding visas and passports as they could change without prior notice.