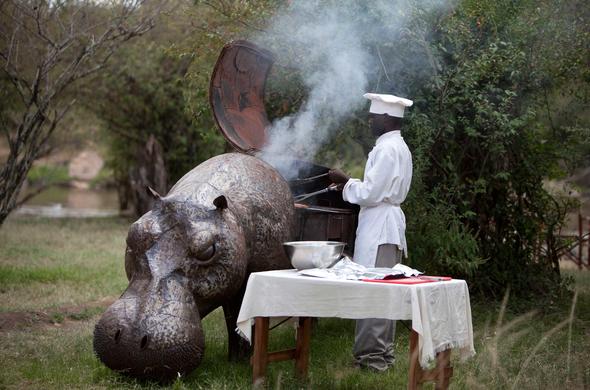 © Chef at Nkorombo Mobile Safari Camp
Languages Spoken in Kenya
English is used commonly in Kenya and is the 'language of communication'. It is widely spoken in hotels, restaurants and other tourist areas. Swahili is the national language of the country.
It is worth learning some Swahili before your trip and locals will be happy to hear you attempting to speak their language.
Kenya's Different Cultures
Even though Kenya is a somewhat liberal country with the majority of the population being Christian, there are Muslim areas that consider it offensive and indecent to wear shorts and short dresses.
Traditional beachwear is accepted on the beach, but nowhere else. Some hotels may allow topless or nude sunbathing, but is illegal in public areas. Kissing or heavy petting is frowned upon in public.
Homosexuality is against the law but still practiced in private. Avoid overt displays of homosexuality, as this may result in hostility. Be discreet in any such activities. It is, however, customary to hold a person's hand during a conversation.
Religious Faith
The majority of the population of Kenya practices the Christian faith, with 27% being Protestant and 26% being Roman Catholic. About 19% of the population follows local native tribal beliefs, and 6% are Muslims.