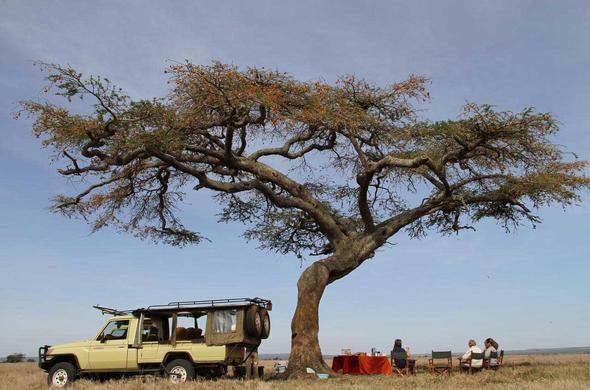 © Ekorians Mugie Camp gets its name from the the Turkana word for Olive tree
Frequently asked questions and answers about kenya safari tours will assist you on planning for your Kenya safari.
What is the typical group size of the tours and safaris?
The size of the group depends on the company you are travelling with. Some companies tailor make tours to suit your needs, so you can have an exclusive and private experience. Some tours can be between 8 and 10 passengers, while overland tours and safaris generally cater for larger groups.
What is the General Fitness Level of Tours and Safaris?
Depending on what activities you would like to participate in, the general fitness levels vary. If you would like to enjoy bush walks and other sporting activities like hiking and boating, an average to good fitness level is required. Game drives, on the other hand, require minimal fitness.
What kind of clothes should I pack for my trip to Kenya?
Kenya is quite a conservative country. In many parts of the country, shorts and short skirts are frowned upon, so always make sure that you do not flash too much skin. Due to the climate, cotton shirts, sweaters, t-shirts and slacks are great clothing items that should be brought along.
Nights are often chilly, so bring along fleece tops, a windbreaker and jacket. Socks and good walking shoes are essential. Pale colours such as tan or olive are best, but camouflage clothes are illegal in many parts of Africa, so steer clear. A sun hat with a large brim, sunglasses and a sunscreen are important. Travel light and bring along clothes that do not take hours to dry and fits easily into your bags.
Your packing list should include:
Long sleeved shirts, pants and socks to protect from mosquito bites
A small flashlight and batteries
Anti malaria medication
Adapter plugs and convertors for electrical devices
Sun glasses, sun hat and sun screen
Long skirts, t-shirts, sweaters, pants, tops and flip flops
Good walking shoes
A good camera and lots of memory sticks, batteries and a charger
Insect repellent
Light rain gear for summer months
Warm clothes for the morning and evening
Binoculars
Basic medical kit
Bright colours and white are not advised for a safari
Military camouflage clothing is illegal