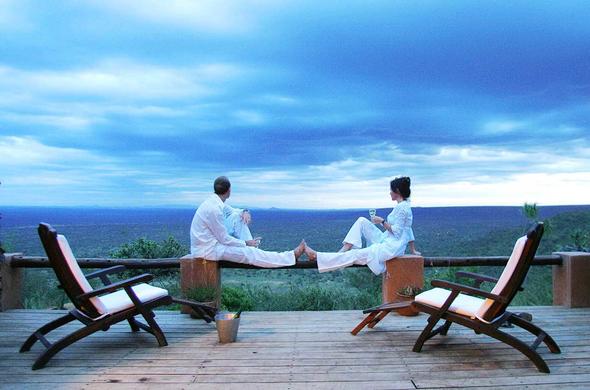 © Experience a life of serene luxury in the heart of the Kenyan bush. Loisaba Lodge
This selection of fine, Kenyan luxury safari lodges offers the discerning safari traveller luxury living, exceptional service and world class cuisine - all coupled with an outstanding safari experience.

Sarova Lion Hill Lodge is a beautiful retreat set in Lake Nakuru National Park - home to thousands of pink Flamingos and pelicans. Sarova Lion Hill incorporates natural landscaping with tall acacia trees, winding walkways and greens dotted with bird feeders.

Richard's Camp is secluded and intimate. With just 7 en-suite tents, this Kenya safari lodge is perfect for small groups and family holidays. It has a beautiful location overlooking the Mara plains, where between July and October every year, the Great Migration moves through the Masai Mara.
Loisaba Safari Lodge The view from Loisaba extends to Mount Kenya, the Lolldaiga Hills and the Mathews Range. Only a few miles from the equator, Loisaba is luxurious yet in harmony with its surroundings, this acclaimed Kenya safari lodge is full of adventure yet an oasis of calm.