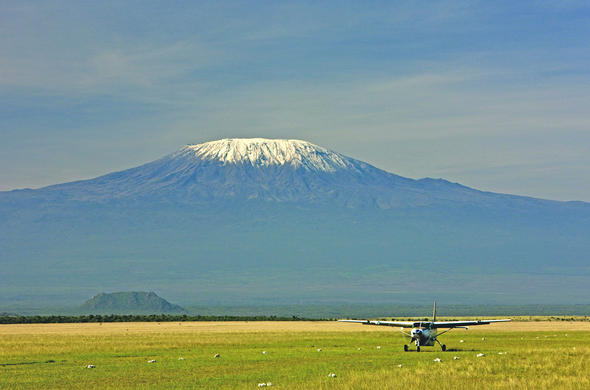 © Landing at Oldonya Lodge
At Siyabona, we mostly get you around by light aircraft, with a few ground transfers in between. So this information is for the more ambitions traveller to Africa.
Getting Around in Kenya
By Air:
Most visitors arrive via Jomo Kenyatta International Airport (JKIA) in Nairobi. If you are in Nairobi and wanting to get to the airport, please plan 2 hours to get there, as the roads are often congested with traffic and security checks are long and tedious.
There are scheduled flights from JKIA to Mombasa, Malindi, Lamu and Kisumu. There are also scheduled daily flights from Wilson Airport in Nairobi to Mombasa, Lamu, Amboseli, Masai Mara, Meru, Nanyuki and Samburu. Charter flights are also available and fly directly to wither of the coastal airports of Mombasa or Malindi.
By Bus:
Kenya offers a network of long distance bus lines; however, the journey can be bumpy and dusty so pick a reputable bus company for long journeys. It is preferable to travel during the day rather than at night due to the threat of carjackings and road traffic accidents.
Local buses in town are provided by private companies and are affordable while offering comfortable seating. These buses have regular services in and out of Nairobi's city suburbs. Buses usually seat 20-35 passengers and, by law, no standing passengers. This is a safe, clean and effective way of travelling through the cities of Kenya.
By Matatu:
Matatu is a minibus taxis and carries 14 passengers operating over short and medium distances. This is a risky mode of transport as the vehicles are poorly maintained and the drivers are usually wreckless, hardly ever abiding to the rules of the road.
Due to recent developments, matatus now provide seatbelts and do not exceed the vehicles seated capacity. Matatus usually travel along set routes; however, it is possible to charter a matatu for travel outside of major towns, just make sure to agree on a price before departure. Matatus are very cheap and a quick and convenient method of transport in all major towns and many rural areas.
By Train:
The Kenya-Uganda railway starts from Mombasa and travels via Nairobi to Kampala in Uganda. This is famously known as the 'Lunatic Express'.
By Rental Car:
Several international car rental companies have offices in Nairobi and Mombasa and offers expensive but reliable cars with a full back-up network. It is advised to hire a heavy duty car or jeep to get around in Kenya, as roads are difficult to travel and are in a state of neglect.
Distances Between Major Towns
Nairobi to Mount Kenya - approx 210 km (130.4 miles)
Mount Kenya to Samburu - approx 170 km (105.6 miles)
Nakuru to Masai Mara - approx 310 km (192.6 miles)
Jomo Kenyatta Airport to Nairobi - approx 18 km (11.2 miles)