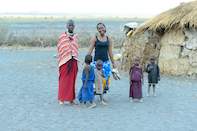 © Shem Compion
Traditional Maasai.
Most people associate Kenya with the Maasai tribe. Images of tall and statuesque warriors sheathed in bright red cloth are widely represented in the media, but there are actually more than 40 tribes in this multi-cultural country.
Kenya has a great diversity in ethnicity. Languages, customs and lifestyle differ from tribe to tribe and region to region. The 3 main tribes of Kenya are the Bantu, Nilote and Cushite. Each one has a variety of sub-tribes which are all unique in their particular culture.
Bantu Ethnic Group
This group has by far the biggest population in Kenya, which is spread out over various regions, and their main occupation is farming. The Kikuyu people make up the largest contingent (Central Kenya), where they grow crops such as coffee, maize and sugar.
Their closest relatives are the Meru (Mount Kenya) and Embu tribes, then the Luhya (the West), the Kamba tribe (the East) and the Kisii (Rift Valley), who are known for their carving and basketry, followed lastly by the Taita who are known for mining of gemstones, the Mijikenda and the Swahili people (the Coastal region).
The tribes on the coast grow a variety of foods which were introduced by merchants and traders many centuries ago such as coconuts and bananas. Arab settlers married into the Mijikenda tribe which gave rise to the Swahili dynasties.
Nilote Ethnic Group
The Nilotes are found around Lake Victoria in the Rift Valley and make up the 2nd largest population group in Kenya. The Luo people are fisherman of the River Lake Nilote group. The Maasai, Samburu and Turkana tribes are nomadic herdsman and warriors, forming the Plain Nilote group. They have a well preserved traditional culture and are well known for this.
The Turkana also practice metalwork and carving. The Kalenjin people reside in the west and are known around the world for their athletic abilities - they form the Highland Nilote Group.
Cushite Group
The Cushites make up the smallest group of Kenyan tribes and are found in the arid regions of the northern frontier (east of Lake Turkana) and the northeast of the country.
The tribes include the Somali, Rendile, Borana and Oromo. They are mainly nomadic herdsman and follow Islamic principles although they are also known for their entrepreneurial abilities.
The Cushitic people tend to stay in close contact with other Cushitic communities in the neighbouring country of Somalia.
by Heather Willowmore