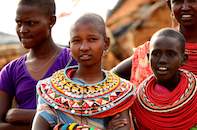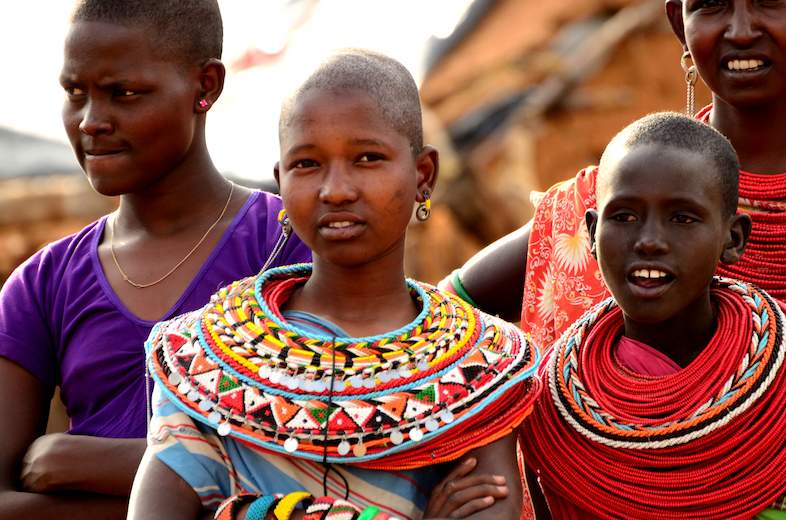 © Karl Svendsen
Samburu Women.
While on a Samburu safari you can visit or stay in Umoja, a unique women's only �manyatta' in the heart of Kenya. This inspirational village honours the life of Samburu women and provides a self-sustaining example in a male-dominated tribal system.
The Matriarch of the Umoja Uaso Women's Village,
Rebecca Lolosoli
has done something really extraordinary. She has started a revolution and pioneered the establishment of this village in an area where women do not have the right to own land, livestock or attend school. She has overcome these obstacles through international acclaim for her beadwork, income generation, support and funding.
Umoja means "Unity"
The Umoja village was formed by women for women, to provide security and as a means of pooling resources and skills. The village is a refuge for girls and women, who have suffered from genital mutilation, rape, forced marriage and spousal abuse. Widows and orphans are also part of the Umoja group which numbers just under 50 members.
Umoja women support themselves and their children through their creative skills with beadwork and crafts. The village also creates income through tourism. A community centre has been built as well as a pre-school for children from the village and neighbouring areas.
Other initiatives include group funds for sickness, disability and savings. Umoja provides adult education and acts as a guiding light to other women's groups in the hinterland.
Visitor Information
At Umoja you can enjoy a tour of the huts and manyatta, the pre-school, the napoo (village parliament) and a woman's home. You can find out more about the Samburu way of life, history and culture, visit the curio shop and see a display of blacksmith work plus traditional singing and dancing. There is also a Cultural Museum.
Accommodation is available in the village which is on the edge of the Samburu and Buffalo Springs Reserve. There is a restaurant offering a comprehensive menu for non-vegetarians and vegetarians plus a bar with cold drinks.
Visitors can request a special Samburu evening celebration, which includes dinner and then later dancing and singing round a bonfire under starry night skies. Game drives can be arranged into neighbouring wildlife reserves.
Umoja Tourist Accommodation
There are 3 accommodation options at Umoja. Advance booking is recommended: You can choose to stay in a traditional hut within the village and experience everyday life the Samburu way Another choice is to stay in the safari camp where there are 5 chalets or bandas which are secure and self-contained with piped water from the river .
Alternately, adventurous guests can stay in the campsite next to the river and enjoy great views of the landscape and perhaps see some wildlife in the reserve across the water. The site has clean ablutions with showers, communal dining / cooking facilities and a refreshment stand.
by Heather Willowmore