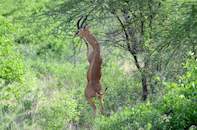 © Karl Svendsen
Gerenuk in Samburu National Park.
The Samburu region in Northern Kenya demonstrates the movement of wildlife through the seasons better than any other African safari destination.

The drier northern parks of Kenya provide some of the country's most dramatic scenery and nowhere is this better demonstrated than in the Samburu region. More arid than the other major parks of Kenya the Samburu nonetheless provides visitors with spectacular wildlife viewing.
The lifeline of the Samburu is the Ewaso Ngiro River that flows through the region. Fed by the glaciers of Mount Kenya the river draws wildlife in numbers.
The wildlife of Samburu shows variances to the wildlife of the southern parks. Dramatically patterned reticulated giraffe, Grevy's zebra and the unique gerenuk are some of the fascinating animals to be found in the area. Predators abound and the birdlife is prolific.

The Samburu, who are cousins of the better known Maasai, still live close to their traditional ways.

Even though tourism is catching up with their culture, the Samburu maintain a certain dignity not seen in many other places in Africa.
Highlights of Samburu
Unique wildlife - Reticulated giraffe, gerenuk and vulterine guineafowl are some of the animals of Samburu
Samburu culture - Experience the proud culture of the Samburu people
Ewaso Ngiro - Flowing through the arid north the river has a beauty unlike any other African river
Best time to visit Samburu:
Good to visit all year round.
Samburu National Park is situated on the edge of the Ewaso Ngiro River in Kenya. This untouched and semi-desert area can be accessed by road and air...
more