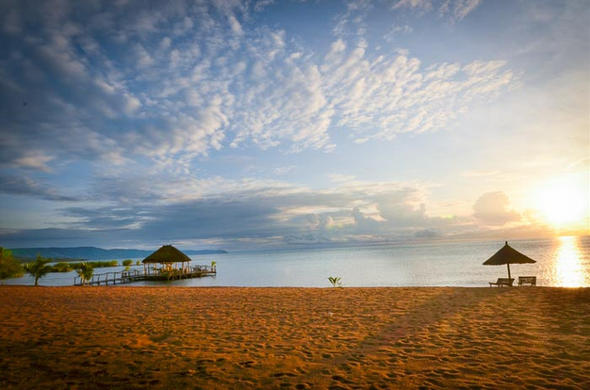 Fantastical Lake Tanganyika - If you like really out of the way places then Sumbu National Park on Zambia's section of Lake Tanganyika is an adventure for you to consider. Carrie Hampton travelled to this remote place where she found thousands of butterflies, monstrous crocodiles and fabulous fishing.
Fantastical Lake Tanzania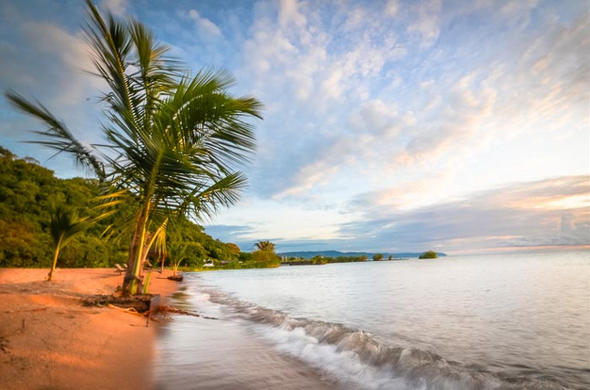 Every good fairytale has both
fearful and enchanting elements
and Zambia's Sumbu national Park has both in abundance. The park includes part of Lake Tanganyika and the big bad wolf has nothing on the monstrous Nile crocodiles that cruise the warm shallows and sunbathe on the riverbanks. When one of these six-metre giants gives you the prehistoric eye, your shiver of fear is as automatic as his instinct to kill.
The bewitching part of the story is found in a confetti cloud of butterflies rising from the shore in a soft focus dream. Around a dozen different species waft in a haze of
luminous blues, paper-whites
, startling yellow, outrageous black and white polka dots and large paint-by-numbers swallowtails.
A Sea without Salt
Sumbu National Park lies on the western edge of Zambia's section of Lake Tanganyika - at 677km
the longest lake in the world
. Four countries fringe its waters; Burundi in the far north, the Democratic Republic of Congo (DRC) to the west, and Zambia and Tanzania flanking the south and east.
Lake Tanganyika bears most of the qualities of a sea except salty water. Storms can produce waves 6-metres high and torrential downpours can unleash 100mm of rain in 24 hours. At the opposite extreme it can turn into a
flat expanse of molten silver
, joining seamlessly with the monotone sky.
Lake is Bulging with Fish
The lake is positively bulging with fish - both the types found in aquariums and on your plate - although fishermen complain that the lake's abundance is not what it used to be. Still, there are over 200 types of shining chichlids, which may be
collected by divers for export
. In a sedated haze in highly oxygenated bags, the fish are jetted off to European and American collectors.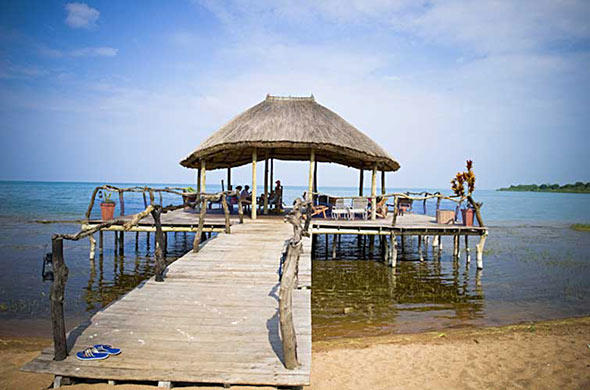 Some like the stripy Frontosa are big enough to eat, but Nkupi makes a more substantial meal. The huge Nile Perch lurking in the waters over 100m deep are still nowhere near the bottom of this Rift Valley lake. At 1,470 metres, it is the
second deepest lake in the world
after Lake Baikal in Russia. Fighting against a 20kg Nile Perch is a challenge that attracts sport fishermen world-wide.Politicians too have succumbed to Sumbu's attractions. In 1989, all the lodges in and around Sumbu were seized by President Kaunda and run rather badly by his chosen safari company. Kaunda built a summerhouse and
large thatched roof conference rondavel
next to Kasaba Bay Lodge, and for much of the time governed his country from this remote, idyllic spot.
Refurbished Lodges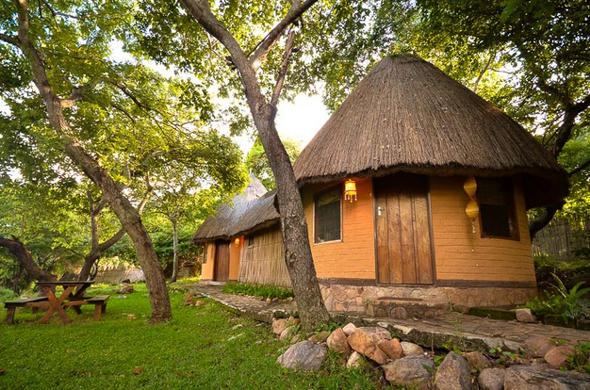 In 1994, under the next President Chiluba's leadership, the dilapidated
properties reverted to private ownership
and after major refurbishment, most of them are operational again. The massive horseshoe that is Cameron Bay hides these solitary lodges, of which Kasaba Bay is the best known.
Situated on acres of lawn
(any newly planted trees just get eaten by the elephants), within lush and wooded Sumbu, the chalets complement their surroundings.

Two large pods of hippos have territories either side of the jetty and at least three massive crocodiles patrol a 200m section of the lake. Puku and
White-spotted bushbuck are everywhere
and there is one lone zebra with an identity crises. Baboons and Vervet monkeys run cheekily past your veranda to see if there is anything interesting to steal, and the lodge's orphan baby vervet leaps onto your shoulder and pulls at your lips.Night-time noises pierced my slatted chalet window, with mechanical hippo munching,
outrageously loud lion roars
and frantic elephant trumpeting. Add to this shrieking Blacksmith Plovers and startled Dikkops to a percussion of tree frogs and I wondered which African adventure film I had awoken to.
A Stroll in the Park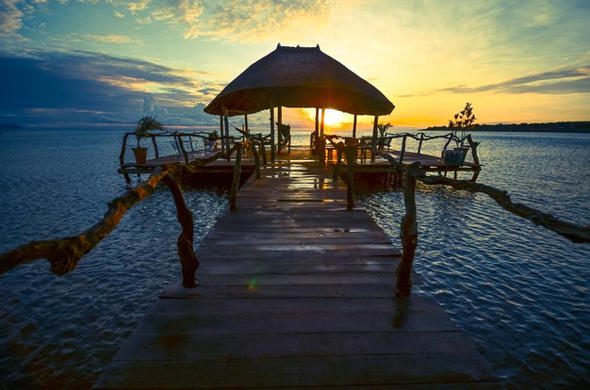 Dan the Sumbu Wildlife Policeman, with his gun dangling from a broken strap, led the way on an afternoon walk. We hiked the full length of Kasaba Bay on the firm wet sand of the water's edge. This was with some trepidation as hundreds of
crocodiles were released here in 1991
when a crocodile farm was closed down. The workers broke down the walls and fled as the crocodiles freed themselves.Turning inland we passed the airstrip which receives a scheduled flight twice a week - when there are passengers. We had arranged to meet James, the lodge manager at the sunset lookout spot but never expected
ice-cold beers served by a bow-tied waiter
with snacks placed on a white linen tablecloth.
Driving back to the lodge along the appalling rocky road, I understood why it takes over 2 hours to drive just 45km to nearby Ndole Bay Lodge. Boat is
a much better option
and there are a variety from the long thin 'banana boat', to high speed twin-engine fishing launches.
Fish Eagle's Cry
One such zippy speedboat took me to Ndole Bay Lodge, situated just outside Sumbu National Park. Unbelievably you can swim, water-ski, play volleyball and
sunbathe under thatched umbrellas
on its pristine sandy beach. Sixteen dark stone and thatch chalets are hidden amongst the native trees.In contrast to the wild feel of Kasaba Bay, Ndole has something of a beach resort atmosphere. The managers treat you like long-lost friends and such is their isolation, they welcome news from the outside world. The fairytale quality of this area is confirmed by the
plaintive cry of the Fish Eagle
. Some say that whey they throw back their heads they are shouting, 'There's no more fish, no more, no more,' but judging from my rank amateur success at fishing, I would say they are lying.
Note from the Author:
This remote area is well worth a visit particularly if you are keen on fishing, and is best organised from the
small fishing town of Mpulungu
at the southern end of Lake Tanganyika.
Ask the author of this article, Carrie Hampton for further info: carrieh@iafrica.com
Copyright © 2002 Carrie Hampton. All rights reserved. Reproduction in whole or in part without the permission of the author is prohibited