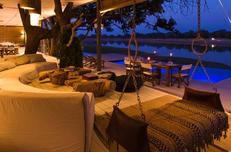 A journalist called Elspeth Huxley once wrote: "Africa is a cruel country (sic); it takes your heart and grinds it into powdered stone - and no one minds."
Article and photographs by Jo Kromberg
I forgive her lack of fetish for geography because her description is so apt. So here I am on my way again, my powdered heart and I - this time to Zambia with friend and fellow hedonist Louise Donald. So here I am on my way again, my powdered heart and I - this time to Zambia with friend and fellow hedonist Louise Donald. After a short flight of just more than an hour and a half on South African Airways from Johannesburg, we land at Lusaka and the midday Zambia heat quickly dislodges our South African cryogenic state as we walk across the tarmac to board our next flight in the microscopically small Proflight Airlines plane to the lower Zambezi.
It's hot, really hot in the 4-seater Dinky Toy plane and as our Italian pilot Mateo slowly starts taxiing down the runway, a trickle of sweat rolls down my temple. Excitement or sheer mortal terror, I know not which.... The engine roars into action with an almighty racket as we accelerate down the runway and suddenly, light as a feather we are airborne. Higher and higher we fly above the russet bush beneath us but still low enough to see things quite clearly on the ground.

For only a few minutes of the 30-minute flight the notorious July and August winds shake us around like a balloon in a typhoon but Mateo quickly stabilises the situation and our heart rates return to normal. Zambia is not given to any extreme weather conditions as a rule and the winter temperatures can go as high as 30 degrees during the day. There are three seasons - cool and dry from May to August, hot and dry from September to November, and warm and wet from December to April.
We are en-route to Chongwe River Camp in Lower Zambezi National Park and as we approach the Camp from the sky, a range of hills make their appearance on the one side while the Zambezi River snakes below us like a giant dark blue and black python. Zambezi means "God's River" and the majestic name is certainly appropriate. A quick look at the Zambia Tourism site tells me that the Zambezi is Africa's fourth largest river system, after the Nile, Zaire and Niger Rivers. Its enormous power has carved the spectacular Victoria Falls and the zigzagging Batoka Gorge.
At just over 4000 square kilometres, the Lower Zambezi National Park (and our location for the next couple of days) stretches in a narrow swathe from the Chongwe River in the west of Zambia to the Luangwa River in the east. The Park is still relatively undeveloped, its splendour lying in its wilderness state. The Park is home to all of the major species in the valley with excellent sightings of elephant, buffalo, lion and leopard a regular occurrence.
Chongwe River Camp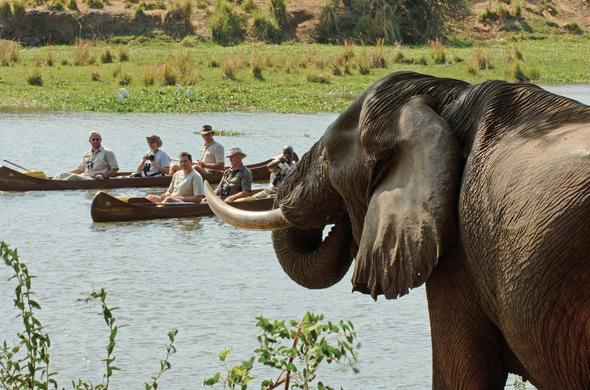 After a smooth landing, our charming and knowledgeable guide George drives us the 20 minutes or so to Chongwe River Camp. It is wonderful to be in the African bush again, with every sense renewed. The Camp is ideally situated on the Zambezi's banks with a canopy of trees above and the peace and silence is immediately apparent and enveloping. On arrival our hosts Sisi and Flossie start a trend in warm hospitality we are to see for the rest of our stay in Zambia. As we drive up to the camp, they are already there, with both hands waving, beaming smiles and they welcome us like truly long lost friends. They accompany us to our lodgings, the Albida suite. We gape in mesmerized shock at the scene before us and they both collapse in giggles at our dumfounded expressions.The Albida suite is described on the website as a luxurious self-contained colonial-style tented suite which sleeps four guests in two spacious, octagonal bedrooms set on either side of a private dining room and lounge area with its own bar fridge, plunge pool and fire pit. The feeling however as one is confronted with this palace in the bush is overwhelming. Its decor combines colourful African textiles with Victorian-style silverware, rich hardwoods and plush, overstuffed couches. We have a spectacular view of the river before us, looking out to Zambia on the one side and Zimbabwe on the other.
Bedrooms feature either a king-sized bed or two single beds with crisp, percale cotton linen, plush throws and an overhead fan. Outside bathrooms, laid out beneath their own tented canopy, have twin vanity units, shower, ball and claw bath and toilet. We have our very own butler, and meals can be taken either in private in the suite's dining area or at the main camp. Sisi briefs us and warns us not to walk alone at night since the hippos, elephant, lion and leopard all move about freely - as it should be!
George takes us on a canoe ride that afternoon and as we paddle slowly along the river, we see monkeys, elephants, crocodiles, hippos and about 30 species of birds. Later we sit by the fire watching the gently setting sun with a gin and tonic, marvelling at our surrounds like kids in a candy store. Dinner is served by our butler in our own dining room and consists of a frightfully delicious corn soup followed by a beautifully cooked steak.
We retire again to the fireside after dinner and suddenly a profoundly and otherworldly sight stuns us into silence. The crimson moon, huge and languid, peers slowly above the river like a blood red balloon and then rises into full bloom. Much later I creep into my enormous bed with its percale linen duvet and I dream of Africa...
I wake up with the mystic river as my view from the bed and jump out, refreshed and as eager as a child to experience the next adventure. Brunch presents itself in the form of the most delicious Thai fish cakes and fresh salads. We spend time in the main area of the camp for a couple of hours where high tea is served and WiFi is available, before we set off on a boat cruise again with George.
Apart from cruising, Chongwe River Camp also offers a range of game activities in the park including full-day picnic trips and fishing excursions, day and night game drives and walking safaris. The Lower Zambezi is also widely known as one of the best places to catch (and release) a tiger fish or two.
George's plan is for us to see Chongwe River House, a 5-minute boat cruise from the main camp and he slowly navigates his way around the dozens of hippos in the river. Suddenly I hear an almighty splash just behind us and as I turn around, George finds a new gear - and a couple of new expletives in Nyanja I would guess - in a split second and we race away from gaping jaws the size of which I have never seen. "He's a cheeky one, that hippo," he says amidst our half-hysterical giggles of momentarily mortified fright.
Chongwe River House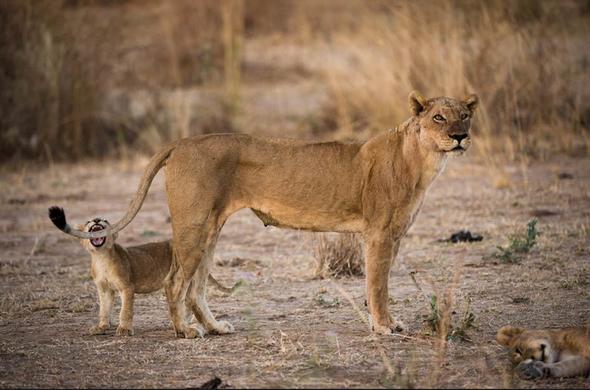 Chongwe River House looms before us and never has such a euphemism been employed in terms of the "house" part. The architectural concept is based on the design of an anthill and this splendid perforated spectacle sleeps eight in four enormous en suite bedrooms, making an ideal safari base for a family or a group of friends wanting a private safari. The property comes fully staffed as well. After dinner that evening, George takes us on a night drive. The night sky is adorned with a billion stars, vast and unending and the Milky Way is clearly visible, flowing through the black sky like silky vanilla magma.The bush teems with animals big and small and we spot hippos, buffalo, elephants and a rarely seen porcupine.
Back "home", we repeat the previous night's ritual by the fire and much high-jinx ensue as I mistake Louise for some frightful creature as she emerges from the bushes after hunting for firewood.
The following morning it is time to go deep into the wild but not before a young elephant bull visits us metres from our room, silently and peacefully strolling past in his timeless way. We say our sad goodbyes to the wonderful team at Chongwe and board our Proflight back to Lusaka. And then it's into the untamed heart of Zambia - the South Luangwa Valley. I must just mention here that the company who organised this journey for us is arguably the most reputable and well-known luxury Safari Company in Zambia - Norman Carr Safaris.
Mchenja Bush Camp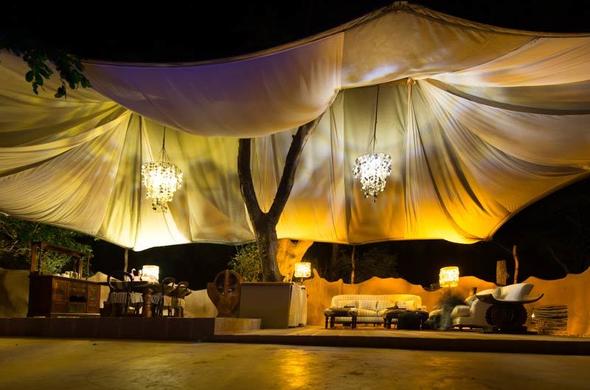 We now find ourselves at Mchenja after a great introduction to South Luangwa Valley with the sighting of a leopard right next to the road. Mchenja occupies a setting beneath a magnificent grove of ebony trees on the banks of the Luangwa River. Mchenja is a stylish, rustic tented camp overlooking a huge sweeping bend in the Luangwa. Each of the five specially designed octagonal tents has their own private en-suite open-air bathroom plus Victorian style baths with a river view.The accommodation is much more basic compared to Chongwe but the location is spectacular, making you feel like you are truly some of the last people on earth in this untouched and pristine wilderness.
We decide not to accompany the other guests on the afternoon game drive and instead do some work - a big mistake as it turns out. They come back from their drive at about 8 o clock that evening, breathless and eyes wide. They witnessed a lion kill! Disappointed but happy for our foreign visitors that they were privileged enough to see such a sight we tuck into dinner under the stars by candlelight as we all chat animatedly and get to know our new friends from Australia and America.
The haunting cry of a fish eagle breaks the dawn the next morning and the view breaks my heart. I open the flap door onto my deck and for the first time in the pink-grey changing colours of dawn, the magnificent river reveals itself to me. After a light breakfast we set off on a 2-hour hike through the bush with trusted guide Innocent. We encounter elephants and a few smaller creatures but the feeling of wondering in the wild and delighting in Innocent's explanations of plants, dung and animal tracks is more freeing than anything I have experienced in years.
A gorgeous brunch is set up for us as a surprise on the edge of the river to complete the experience. On our game drive later we encounter a herd of buffalo and then all of a sudden, there they are... It is the pride of lion from the previous evening, explains Innocent - 14 lions in all; nine cubs and the rest adult females. They doze indolently in the late afternoon sun, almost completely ignoring us. Innocent suggests we leave them for now and after a sundowner stop our spotter switches on the spotlight and lo! A leopard right next to our vehicle.
Leopards are notoriously elusive creatures and spotting one is always a highlight on any game drive. We also see a lone hyena and then it's time to head back to camp for dinner. As we are driving along, the lion pride of earlier suddenly make their appearance again as Innocent had hoped and we follow them as they stalk a puku, an antelope similar to an impala. Their demeanour has markedly changed from the lazy cuddly kitties we saw earlier to taught, stealthy masses of ominous rippling muscle as they quietly flank their pray.
Suddenly the night silence is pierced by almighty ferocious and primordial growls and snarls as the lions pounce. We watch in stunned silence as this show of the merciless cycle of life in Africa plays out some 20 metres before us. The cubs are just as brutal as the adults as they try to snatch whatever piece of the poor (now dead) animal they can but they are unceremoniously swiped away by the older ones. "That puku didn't know what hit it," says Innocent and we are glad we didn't have to see the animal suffer. Our new friends from Australia, Chrissie and David tell us that the previous night's kill was not so user-friendly. "That puku was alive and bleating for so long before it finally died," says Chrissie, visibly recoiling at the memory. "Yes," says David philosophically. "South Africa is safari-light but this is high-octane!"
That night I stare up at an infinite blanket of stars above. Some fall, most stay... I think of the insignificance of my daily problems and how Africa has a way of putting everything into perspective.
Chinzombo Lodge
We leave early the next morning for our second last destination in Zambia, Chinzombo Lodge. We have to cross the river for a very short boat ride and Chinzombo looms on the other side - an absolute paragon of luxury and definitely the next generation in luxury safari lodges. And here, dear reader, I will cheat and use someone else's words to describe this place since superlatives fail me:
"Webster's describes "stunning" with the following synonyms: amazing, astonishing, astounding, blindsiding, dumbfounding, eye-opening, flabbergasting, etc....BUT he left out one important word: CHINZOMBO!! This place is indescribable. It's not only a camp but it's a lifestyle experience. Imagine Ralf Lauren Home meets the bush. Posh (in) every detail imaginable; from the private plunge pool in your villa (to) the perfectly fitting bathrobes, to the champagne on the hood of an open air safari vehicle."
Tongabezi Lodge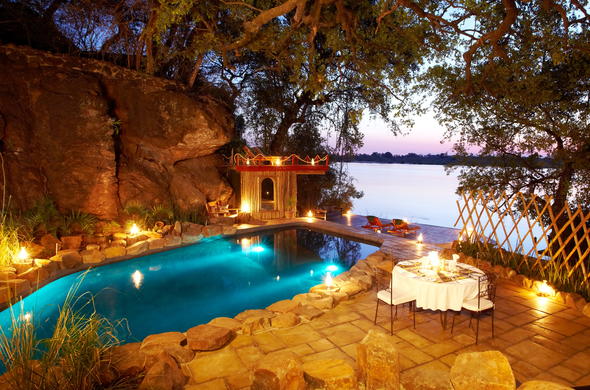 We fly directly to Livingston and then it's a short 15-minite drive to Tongabezi Lodge on the banks of the Zambezi, just upstream from the Victoria Falls. We are warmly welcomed and led down to the river for lunch. Tongabezi reveals itself like the dance of the seven veils. It must be one of the most romantic places on earth. The dining area is designed to accommodate different parties in split-level nooks and crannies, all under a canopy of trees overlooking the mighty river. A 15-minute boat ride with our guide Brian takes us to our own exclusive private island camp Sindabezi, also belonging to Tongabezi.We indulged in a delectable lunch of fish, pizza and salads and then we retire to our enormous villa with its gorgeous own pool, overlooking the savannah and the river beyond. The rooms are well spaced so you have privacy without total isolation.
The lodge was designed by award winning architects Silvio Rech and Lesley Cartens and it is evident that every design detail has been pondered and nothing done haphazardly. There are only six exclusive villas with an enormous bathroom with unparalleled vistas of the river opening up on a massive sundeck with couches and of course, the pool!
Later when the other guests go on a game drive, we spend time around the main area of the Lodge, taking photographs and chatting to Tom, the assistant manager. I look to the other side of the riverbank through the binocular where a few vehicles heavily laden with tourists have parked, watching a sleepy pride of lion. What happens next seems like a National Geographic documentary moment, specially made for us. A lone elephant bull makes his way down the embankment to the river for a drink of water in the heat. He loiters a bit and the lions, only a few feet away, eye him warily. Then all of a sudden he charges them and in a tornado of dust two or three of the lions decide game drive vehicles present excellent shelter against elephant attacks and make a beeline for the vehicles which the mortified tourists are sitting atop. The lions hide behind said vehicles and one even crawls underneath in an attempt to evade the mischievous elephant while all blood drains from the bewildered onlookers' faces on the vehicles. Together with the staff behind us we can barely contain ourselves with laughter at this hilarious exhibition.
Dinner that night is excellent - in fact, the food throughout is superb- comprising of chicken liver pate for starters, Beef Wellington for mains and the most delectable apple crumble for desert. All the Norman Carr properties we visited are all-inclusive so one doesn't receive a nasty surprise in the form of a drinks' bill upon leaving.
I can't keep my eyes open after the day's excitement and so I retire quite early, eager to experience the sanctuary of the villa. The gargantuan bed has its very own air-conditioning system - yes, just the bed! Sleep quality here is the best I have experienced anywhere in years. I laze by the pool the next day, watching as the elephants playfully cavort in the river.
We chase the sunset that evening for photographs and Innocent takes us across the river on a pontoon for that purpose and onto a hilly outcrop overlooking the entire valley and as the sun nearly exhales its last scarlet breath of the day onto this magnificent land, he suddenly whispers: "Wild dog!" Now here is the most endearing thing about our wonderful guide Innocent. He grew up in the Valley and has been a guide here for almost twenty years with an encyclopaedic knowledge of the place and its inhabitants. Yet every time we spot something, he gets as excited as us as though he sees it for the first time. Louise and I are now torn in two. Do we photograph the sun going down to the one side or the lone and elusive wild dog on the other? African wild dogs are highly endangered so the sight is rare and very special. We manage to capture both with some fancy footwork and a little help from Innocent.
On the way back to the lodge we spot a hyena, zebra and of course hippo in the pitch black with only the spotlight and the million shining stars in the heavens above. Back at the Lodge, a guard escorts us the few metres back to our villa to get ready for dinner and suddenly he whispers: "Wait! Hippo...But don't worry." As I almost become airborne in my quest to reach the lit safety of the villa I idly wonder what about a hippo right in front of you in the pitch darkness might make you not worry...We have to say our poignant goodbyes to Innocent and the rest of this magnificent team the next morning and then it's off to our very last Zambian treasure close to Livingstone.All the staff including Joe, our private valet, welcomes us. The island is tiny with only five open-sided thatched cottages and a distinct castaway feel about it. It is one of the Top 10 Lodges in Africa according to Fodor's and deservedly so. There is absolutely no connectivity or cell phone reception of any kind so I soak up the serenity instead. The bed is elevated and I feel like I am floating above the river, listening to the hippos chat. The linen curtain "walls" bulge lazily in the soft breeze as the sun fades. The exposure to nature is disconcerting at first - there are no door or walls at all, only tents flaps that can come down at night - but after a while, you realise that your soul actually craves this commune with nature.
The outdoor shower really is outdoors, giving the entire animal kingdom of the Zambezi a full-frontal visual treat of your naked, showering self for the best shower ever. We all congregate on the beach around the fire as the light plays across the river that evening with the other guest and drinks are served. For dinner we are served fillet steak fit for a king. When I retire for bed I find that Joe has magically transformed my room into a romantic sanctuary with the curtains and mosquito netting drawn, the bed turned down with candles and soft lighting everywhere.
The next morning after breakfast we are transferred back to Tongabezi via boat for our last night's stay. After lunch Forbes (once again a personal butler assigned to only us) escorts us along the pathway to something called the Dog House. Tongabezi's bespoke accommodation options differ like day and night, each offering an experience rather than a somewhere to sleep.
The other "houses" are called Bird House, Tree House, Nut House and Garden House. As Forbes opens the door to the Dog House the sun streams over polished wooden floors, inviting us into one of the most spectacular spaces on earth. The Dog House simply occupies another world at the furthest edges of the Tongabezi garden. Three separate decks are connected to each other and the rest of the world only by elevated walkways. Sustainable pine forests have provided the beautiful wooden decking that is raised high enough to allow the mighty Zambezi River to run underneath all the rooms during high water.
Views are spectacular from every window, sofa, bed and bath. You just want to curl up on whatever luxurious spot is closest, lose yourself in reverie and never leave. The open plan central deck was designed around play, games, relaxation and conversation with "east wing" and "west wing" king-sized bedrooms on either side with luxuriant lounging areas and stunning en-suite bathrooms. It has a private infinity plunge pool, concertina glass doors, a double-sided fireplace facing onto both the lounge and the dining room and a spectacular bar. The Dog House is expansive and comes with its own exclusive valet, guide, vehicle and boat ensuring guests' full control over the ultimate bespoke itinerary. I spend a wonderful evening having dinner at Tangala House - the owner's home - with new friends from America while Louise takes photographs of the Lodge in the setting sun and on my return Forbes makes me a cosy fire while I curl up with a glass of wine. I ponder our return to South Africa the next day and this past week in my life, offering me a glimpse of heaven.
As we stand at the edge of the Victoria Falls the next day on a quick visit before going to the airport, the sense of Man's insignificance rushes at me with visceral and raw ferocity in the face of one of the magnificent Wonders of the World beneath me. The thundering falling waters go on for miles and it looks to me like a place where the earth broke. My poetic proclivities leave me bereft like a joke searching for a punch line when trying to describe this corner of Africa. Zambia, of thee I sing.