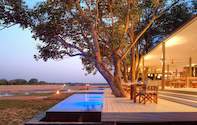 Time + Tide Chinzombo offers the ultimate South Luangwa safari in Zambia with spectacular views of the Luangwa River.
Private access to the South Luangwa National Park by boat
6 private luxury safari tents with private pools
Boat cruises on the Luangwa River
Activities include day and night guided game drives
A Zambia safari is not complete without experiencing the diverse landscapes, wondrous wildlife and authentic culture of the local people. A visit to Time + Tide Chinzombo lodge in Zambia is the ideal place to experience a Zambia wildlife safari while staying in luxury accommodation overlooking the Luangwa River.
Guests at Chinzombo will experience remarkable service from a team of local staff, views of the Luangwa River and untamed wilderness and encounters with the free-roaming wildlife.
Located near the South Luangwa National Park, guests at Chinzombo have private access to the park by boat. Various activities, such as game drives and walking safaris, are available for guests to delight in the wilderness. For a relaxing day or evening, guests can remain at the lodge and enjoy the swimming pool or bar area. Evenings are warmed up at the fire pit that draws guests to a united evening under the stars.