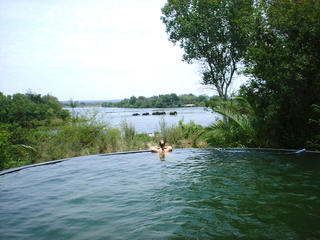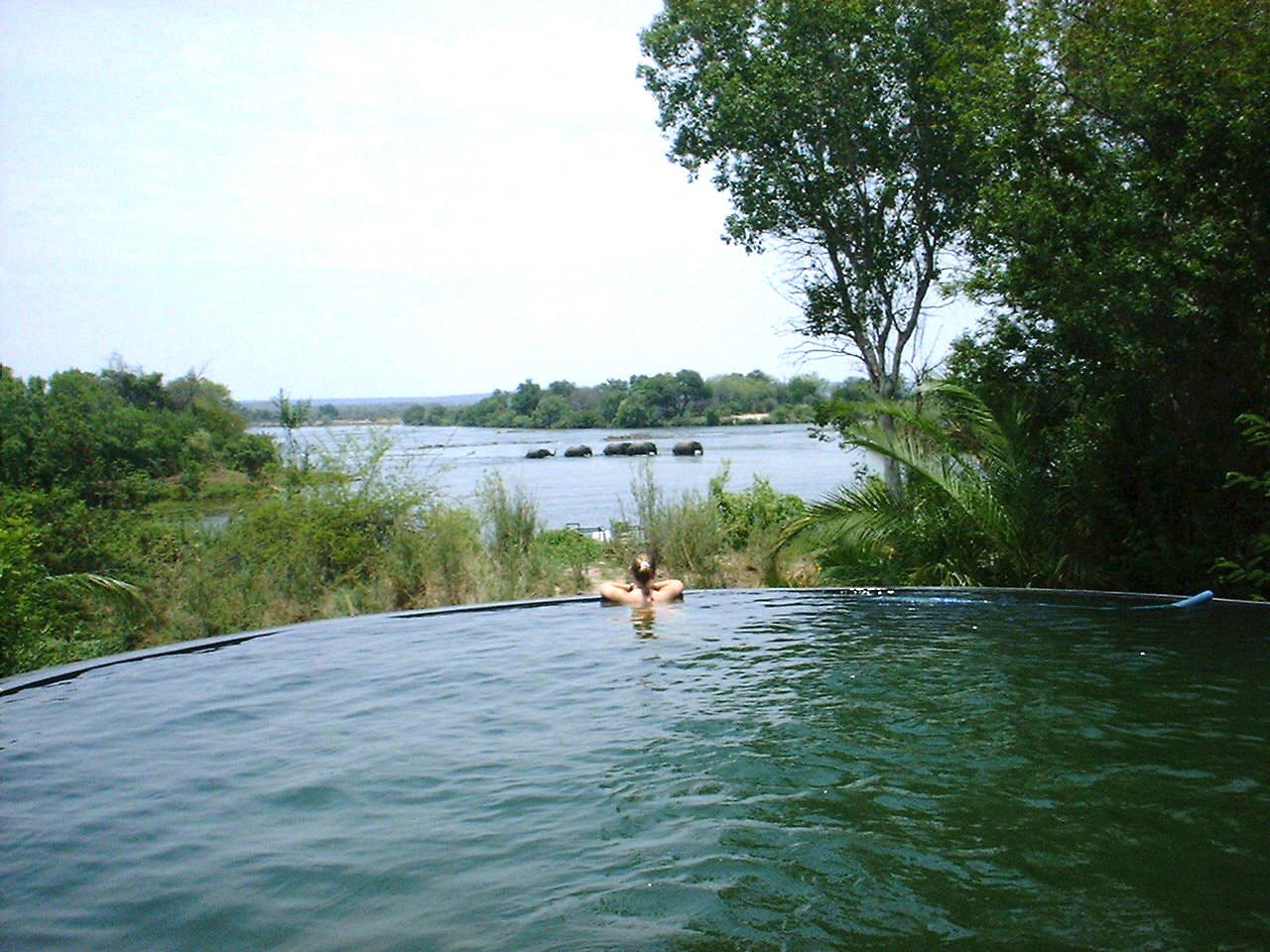 © Your view from Sussi and Chuma Lodge. Victoria Falls. Zambia
Sub-Saharan Africa already enjoys the lion's share of international tourist arrivals to the continent.
Tourism in Zambia
While the attractions of South Africa, Botswana, Lesotho, Namibia, and Swaziland are well known, the tourism potential of Zambia and neighbouring Mozambique and Angola has just begun to be tapped. Regional co-operation and investment is helping do just that.
How can you identify a Zambian drunk driver? He's the one driving straight. People in Zambia tend to
drive on the side of the road
that has the best surface. Zambia's disintegrating road network has long been a standing joke. That seems set to change as Zimbabwe's economic decline fuels Zambia's recovery.
Political stability is the
first prerequisite for tourism
. Infrastructure is the second. Zimbabwean tour guides and tourism operators are flocking into Zambia. Its infamous roads are being restored, game parks are being restocked and new lodges established around the country.
Zambia's President, Levy Patrick Mwanawasa
, is actively encouraging tourism using foreign donor aid and private enterprise to provide the necessary infrastructure. This is no mean feat as Zambia is a large and under-developed country the size of France, Belgium, Switzerland and the Netherlands combined.
Zambia's National Parks
Almost a quarter of
Zambia's 750 000 square kilometres
is set aside as National Parks. However, these have been much neglected over the years. Recognising the tourism potential, the government, despite internal opposition, has leased two of the country's National Parks out to a South African company.
African Parks uses both
public and private resources
to develop degraded parks in Zambia, Malawi, Mozambique, Kenya and Uganda. Another National Park in Zambia that is being developed as a joint effort is Lochinvar National Park in south-central Zambia.Once rich with plains game such as
sable, eland, roan, lechwe
, buffalo and zebra, unchecked poaching ravaged the area's wildlife. Of the 22 ungulate species previously recorded at Lochinvar, 8 have become extinct in the last 40 years. In 1988, a community-based conservation project was set up through the World Wildlife Fund and National Parks of Zambia.
To prevent a repeat of the poaching excess, NORAD, the Norwegian Aid Agency is funding anti-poaching units within the park drawing from expertise in other African countries. Plans for relocating 6 cheetahs are currently in the pipeline.Subsequently, a private lodge, Lechwe Plains Tented Camp, has set up camp in the park.
Prior to the private camp
, there was minimal tourism in the park, low-income generation and difficulties in protecting the wildlife. The lodge is expected to dissuade poaching as the animals come to see the environs of the lodge as a safe haven, a phenomenon common to game parks around the world.
A new day dawns for Zambia
The money that is starting to be generated by Zambia's National Parks goes to the Zambian Wildlife Authority (ZAWA) unlike in Botswana where it disappears into central government's coffers. However, once there, its progress is much the same. The money tends to 'grow legs' as Choma, an ex-ZAWA employee now with WWF put it.
Such problems remain, of course, including the continued scourge of Aids, seasonal famine and government corruption. But, one night, our guide, Amon, gave us the benefit of a Zambian's perspective. For him, he said, the writing was on the wall when the previous president, Frederick Chiluba, wanted to stand for a third term of office.According to Amon, the
Zambian people, with one voice said 'No'
and their will was implemented with no fighting or intimidation. Chiluba is now facing corruption charges. The Zambian currency, the kwacha, means 'sunrise', and a new day does indeed seem to be dawning for Zambia and her people.
Zimbabwe's Loss is Zambia's Gain
Long Zimbabwe's poor neighbour, Zambia is coming into its own. From the late 1980's,
tourism in Zimbabwe grew between 20% and 40%.
In 1999, at the height of the tourism boom, 1,4 million tourists helped contribute up to 6% of national GDP.
In 2000, as the land unrest began, visitor figures declined to less than a quarter of the levels of the previous year. Then, Zimbabwe lost the construction of a multi-million dollar resort complex to neighbouring Zambia.
The latest Sun International resort
was built on the Zambian side of the Victoria Falls at Livingstone.Other
infrastructure improvements have followed
. The Livingstone National Airport has been upgraded and Livingstone itself is a bustling tourist town with new tour operators and new luxury lodges. A US$12 million donation from the World Bank is being used to upgrade roads in the Livingstone area.
The Great North Road to the capital, Lusaka, is now a two-lane tar highway.
Lusaka's internal road network is being redone
thanks in part to a Japanese aid project. A German project is funding the tarring of the road from Livingstone to Sesheke on the Zambezi river bordering Namibia's Caprivi.This ferry crossing between Zambia and Namibia is about to be replaced by a
new bridge between Katima Mulilo and Zambia
, scheduled for completion this year. Regional talk shops have been making themselves heard over the clamour of construction.
Along with Zambia, Angola and Botswana, adjoin Namibia's river-lush Caprivi strip. A cross-border tourism accord has recently been signed between the governments concerned. They will be working together on developing tourism in the region.
Copyright © 2004. Laurianne Claase. All rights reserved. Reproduction in whole or in part without the permission of the author is prohibited.