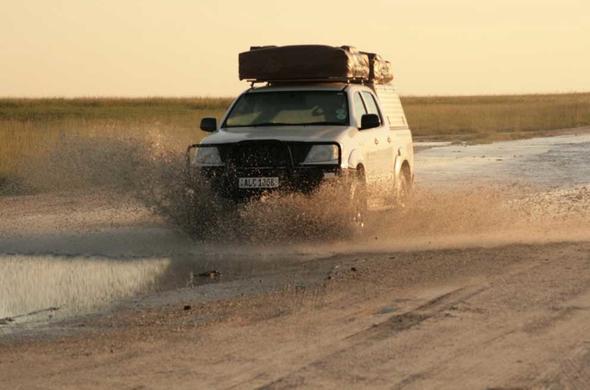 © King of the road? Who needs roads?
Sports utility vehicles may be de rigeur in the suburbs these days, but few dare to go beyond a bit of curb mounting at the local shopping mall. Jacques Marais ventures off the beaten track to discover a selection of stunning dirt-road destinations dotted around Southern Africa.
Zambezi Gorge
Victoria Falls is not a bad place to get stuck into
an off-road odyssey
. Despite two years of turmoil and broadsheets of bad press, Zimbabwe still remains one of the African continent's premier destinations, offering a
superlative mix of extreme action
and leisure options to intrepid travellers.Adrenalin sport activities run the full gamut, encompassing everything from river-boarding,
white-water rafting and abseiling
to a death-defying bungy plunge into the Zambezi gorge, while game viewing, balloon rides or a dawn flip in an ultra-light will cater for those in a more laid-back mood.And all of this happens against the spectacular backdrop of Mosi oa Tunya (The Smoke that Thunders),
one of the seven natural wonders
of our world. Recently declared a World Heritage site, the Victoria Falls area today support a burgeoning tourism industry.Accommodation options therefore abound, but few could compete with Ilala Lodge (the closest hotel to the falls) where a relaxing combination of
historic charm and rustic comfort
impress. An added bonus comes in the form of Zambezi Wilderness Safaris, an in-house tour operator allowing visitors to plan adventure excursions while
sipping colourful cocktails
on the pool deck.An off-road vehicle is an essential accessory in this mythical playground of Nyaminyami, the
legendary river god haunting the Zambezi
gorges according to local folklore. Bundu-bashing fundis will revel in the indisputable piece de resistance to any off-road adventurer - a "Four Countries in One Day" safari. This mammoth bush excursion would pit you against some of
Africa's most challenging stretches
of outback, starting off in the Matetsi Safari area in Zimbabwe before crossing over into Zambia via the Kazungula ferry.After a guided nature walk on
a tropical Zambian island
, an idyllic river cruise through Namibia's Kasai wetland will allow you to soak up this unique birding paradise. End off the day with a
late afternoon game drive
through Chobe National Park in Botswana before returning to Ilala's warm hospitality.
Ilala Lodge Fact File:
When to go:
The climate around Vic Falls is moderate year round by African standards. Spring is usually hot and dry, followed by a rainy summer season.
When to go:
The climate around Vic Falls is moderate year round by African standards. Spring is usually hot and dry, followed by a rainy summer season.
Degree of Difficulty:
This is Africa, so expect anything. Get a Government Survey map and choose your route
according to your level of experience
. Infinite route options into neighbouring countries also exist.
Don't forget to take:
A GPS, maps, malaria prophylactics, passports, a water filter, enough fuel and all the spare parts you might need
in case of an emergency
. A generously proportioned sense of humour will also stand you in good stead.
Namib-Naukluft National Park
From Zimbabwe, head south-west to negotiate the dusty roads traversing the Skeleton Coast in order to
savour the desolate beauty
of the oldest desert on the planet. Few, if any, other countries in the world can match Namibia when it comes to actual kilometres of gravel road travel on offer.Exploring the backroads of this barren thirstland will often yield unexpected surprises and Goanikontes Oasis is certainly one of them. Situated within the northern reaches of the nearly 50 000 square kilometre Namib-Naukluft National Park, the camping terrain at Goanikontes is dwarfed by the spectacular Khan River gorges.
It is in this extreme environment that ancient welwitschia mirabilis flourish in tenacious abandon and one huge specimen is estimated to be more than 1 500 years old! Dinosaurs once walked these badlands, often referred to as The Valley of the Moon, and their footprints, together with some of the world's best examples of ancient rock art, are beautifully preserved in the sandstone reaches of this ageless land .
Enjoy the brief reprieve from the fierce desert sun offered by Goanikontes' shady thorn trees before setting course for the Usakos area. Here the pastel savannah plains explode into volcanic mounds of rock, with the rounded peaks of Spitzkoppe (Namibia's very own Matterhorn) mushrooming against the expansive desert skyline.
An opulent moon rising behind these domed granite peaks, the highest reaching an altitude in excess of 1800m, is an experience that will insinuate itself into your soul. Spectacular San rock paintings and a varied bird-life complement excellent rock climbing, mountaineering, hiking and bags-full of back-roads begging further exploration.
Namib - Naukluft Fact File
When to go:
Summer is accompanied by extreme day-time heat, while winter nights in the desert regularly dips below freezing - your choice between fire and ice, really.
Rates & Tariffs:
The Naukluft 4x4-Trail is a 73km, self-guided route which takes two days to complete and will set you back N$200 per vehicle.
Degree of Difficulty:
Depends on weather conditions as well as route choice. Enquiries with friendly locals will set you right.
Don't forget to take:
Lots of water, sun-block, a GPS and spare tyres - and don't forget to take the necessary ingredients for a few late afternoon sundowners.
Other Information:
Wolwedans Dune Camp in the Namib-Rand Nature Reserve offers another unique opportunity to experience the diverse desert landscape.
Richtersveld National Park:
October is an excellent time of year to plan a get-away to the surreal mountain desert encompassed by the Richtersveld National Park. By now the winter nights have lost the severity of their bite and the sun is still in the process of building up towards the full intensity of summer. Also, if you are extremely fortunate, unexpected spring rains might herald an explosion of desert blooms along the endless reaches of the Koeroegab plains .
The 160 000 hectare national park, proclaimed in collaboration with the local Nama community as recently as 1991, is situated in the north-west corner of the Northern Cape where South Africa rubs shoulders with the arid mountain ranges of southern Namibia. The Richtersveld itself hunkers down within the muddy embrace of the mighty Gariep River, offering wilderness enthusiasts an unparalleled off-road experience.
Camping sites at De Hoop, Pootjiespram, Richtersberg, Kokerboomkloof and De Koei allow visitors to experience the many moods of this diverse botanical realm, but don't expect any luxuries. Facilities are limited to low, brick fireplaces, a few bristly desert trees and a multitude of rocks - no electricity, no water, no toilets and a refreshing lack of noise pollution.
At first glance the desert might come across as a minimalist tableau of rock and sand, but closer inspection will uncover a rich and diverse ecosystem. Xerophytes and succulents eke out an existence in the lee of rocks; gnarled trees send down root systems through tens of metres of inhospitable earth and rock to tap into life-giving arterial water and patient reptiles wait for the !Huries Mist to roll in to lick the condensation from plants and rocks.
The network of jeep tracks through the Richtersveld are sure to test your driving skills, offering a good mix of sand, rocky climbs, rutted tracks and ditches. Just keep in mind how fragile the desert ecosystem is and stick to existing tracks at all times.
Richtersveld - Fact File:
When to go:
September/October and April/May are the best times of year.
Rates & Tariffs:
Entry fee into the park amounts to R30 per person and camping cost is R40 per person per night.
Degree of Difficulty:
A good range of conditions will test your driving skills, but nothing too extreme.
Don't forget to take:
Everything you will need for the duration of your stay, including enough extra film to capture the ever-changing desert scenery.
Hillandale Farm:
Those who still assume the Karoo to be flat have obviously not been confronted by the mountains rearing skywards in the area surrounding the town of Beaufort West. Escape the N1 tarmac snake ten kilometres east of this "Capital of the Karoo" and head for the hills - or in this case Hillandale Farm, nestling in the folds of the Nuweveld mountain ranges. The fun really starts when you reach the Steven-Jennings' farm, where the arid plains abruptly give way to the dramatic landscape of De Jager's Pass.
Hillandale offers clean-air addicts so much more than a few exciting off-road routes though; mountain-bikers, hikers, birdwatchers and the braai brigade will find they too are well catered for. Accommodation options will leave you spoilt for choice - experience authentic farm-style hospitality if you overnight at the historic homestead or alternatively settle for clear and starry skies at Big Weir Camp.
Set in a copse of sweet-thorn trees next to a placid, man-made lake, the campsite caters for up to six vehicles and allows easy access to the 4x4 routes. African spoonbills, purple herons and black stork share the live-giving water with dainty steenbuck and, if you're in luck, you might spot the extremely scarce and endangered riverine rabbit.
All 4x4 routes are well signposted and will pose a reasonable challenge, incorporating sandy river beds, donga crossings, steep ascents and rocky descents. The Krom River route, following a dry river course through dramatic canyon countryside, is the shortest of the three routes at 34km return.
Sneeukop (64km) and Spitzkop Trail (53km) traverse the remote and beautiful Karoo highlands, comfortably rivalling the spectacular scenery of the nearby Valley of Desolation. Keen observers will be rewarded with sightings of kudu, fallow deer and majestic black eagles etched against the canopy of the sky.
The Karoo National Park, less than 70km away, offers an exceptional 4x4 route to those in need of an additional off-road challenge. Rates for the two-day route, including overnighting at the 8-bed Doornhoek homestead, will come to R100 per adult per day. Contact park manager Leighton Hare on Tel (023) 415 2828 for more information.
Hillandale - Fact File:
When to go:
Winter months are chilly, but nothing that a generous helping of warm Karoo hospitality won't sort out.
Degree of difficulty:
A choice of three trails will pose varied challenges to all levels of drivers.
Don't forget to take:
Binoculars, a bird book and a few beers with which to wash down the Karoo dust. Free range meat and organic vegetables are available on the farm.
Off -Road Driving Principles:
The South African National Parks and Land Rover (SA) have compiled the following list of FRAGILE EARTH principles to consider while partaking in your off-roading lifestyle.
People and Wildlife:
Wildlife always takes priority over your own progress. Never follow or pursue frightened animals. Avoid excessive engine noise. Always respect the privacy of other people. Leave no litter, only tracks.
Access and Erosion:
Familiarise yourself with appropriate access regulations. Always seek permission before crossing private land. Be sensitive to easily damaged areas and avoid where possible. Stick to existing tracks to minimise damage. Avoid creating ruts in open veld by staggering tracks.
Off - road Driving:
Always proceed gently so as to minimise impact. Where possible, carry out initial reconnaissance on foot. Select the correct gears. Use the footbrake sparingly when slowing down - never use the handbrake for this purpose. Avoid spinning or locking your wheels. Equip yourself with the correct tyres at the appropriate tyre pressures.
By Jacques Marais