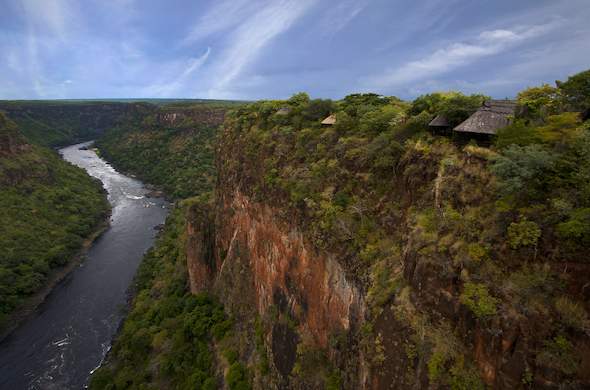 © View of the Zambezi flowing thru Batoka Gorge.from Gorges Lodge
Steeped in legend the Mighty Zambezi River provides more tourist attractions than any other African destination, from dramatic game viewing to adrenaline sports, leisure cruises and a natural wonder of the world in the Victoria Falls
Rising in the highlands of Western Zambia, the river flows through Southern Africa for more than 3500 km before entering the Indian Ocean on the coast of Mozambique. On its journey the Zambezi flows through Angola then heads back into Zambia, before flowing along the North-eastern border of Namibia and touching on Botswana, from where it forms the border between Zambia and Zimbabwe until it enters Mozambique.
Africa's Greatest Wilderness Areas
All along its path the river provides a lifeline for humans and wildlife alike, with the people living in its proximity surviving by fishing and growing crops on the floodplains. Wildlife finds refuge in the numerous parks and reserves found along the river, with places such as Mana Pools National Park in Zimbabwe and the adjacent Lower Zambezi National Park in Zambia providing, arguably, some of the most dramatic wilderness experiences in Africa.
Tributaries of Life
Three of the Zambezi's tributaries are the lifelines for some of Africa's legendary game parks. The Kafue and Luangwa rivers in Zambia flow through the Kafue National Park and South Luangwa National Park respectively to provide some of the top wilderness experiences around and the Chobe River, which forms the border between Botswana and Namibia, is legendary for its elephant concentrations.
Damming the Legend
With the development of Africa in the mid 1900's the idea was put in to practise where the Mighty Zambezi would be dammed to provide hydro-electricity to the Southern African interior - and two dams were built, Kariba and Cahora Bassa.
With the displacement of entire communities, such as the Tonga of the Zambezi Valley, Kariba was built much to the displeasure of many. Legend has it that Nyami-nyami, the god of the Zambezi was very angry with the construction of Kariba and he is going to destroy it in the future.

View over Lake Kariba from Bumi Hills Lodge
Despite the negativity toward Kariba at the time, today the lake supports a thriving tourism community, based on wildlife, fishing and boating. The 270 km long lake is home to game parks and wilderness areas that host a range of tourism accommodations from luxury lodges to rustic camp sites.
Cahora Bassa in Mozambique is only now starting to develop a stronghold in tourism circles but its growth is hampered by the relatively limited Mozambique tourism development.
Activities for Africa
It can be safely said that the Zambezi is Africa's greatest river when it comes to offering fun stuff for visitors, with big game, boat cruising, fishing, unmatched adrenaline activities and spectacular sites to choose from.
The Big Five and the Victoria Falls provide more than enough to attract visitors but add the ultimate adrenaline sports, canoeing, house boats and accommodations to suit every need and you have without doubt Africa's greatest tourism river.