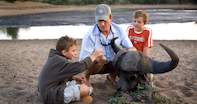 Spend 3 adventure-filled days drenched in the sights, sounds and smells of an untamed wilderness as you drive to the Greater Kruger National Park for a rustic family retreat.
Accommodation: Family tented suite equipped with mosquito nets and an en-suite bathroom
Destinations: Johannesburg, Manyeleti Private Game Reserve, Johannesburg
Activities: Morning and afternoon game drives, walking safaris, sundowners and bush dining, children's programme
Your Self-Drive Family Safari Experience
Whisk your family away on an unforgettable 3-day safari in the wildlife-rich Greater Kruger region where wildlife encounters are unexpected and unparalleled. This classic visit to South Africa's finest fauna and flora sanctuary is ideal for families travelling with children or teenagers - offering new experiences that will satisfy every age group. With its position away from the crowds of the Kruger, this secluded game reserve enjoys tranquility at its best.
This self-drive tour is the ideal way of exploring South Africa's landscapes as a road trip allows you to move along the contours at your own pace. The lodge is cocooned in a tranquil atmosphere, offering relaxation to parents and freedom to children. An interactive children's programme will keep your children entertained as you experience the raw bush during game drives and walking safaris.
Day 1: Johannesburg - Manyeleti Private Game Reserve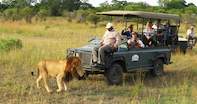 After a self-drive road trip from Johannesburg, arrive at Honeyguide Khoka Moya Camp where you will stay for the duration of this safari getaway. Your tented suite will welcome you to a rustic world infused with traces of luxury. After settling into your suite, your trained guide will take you out in exploration of the Manyeleti concession in a specialized safari vehicle. During this afternoon game drive, you might be lucky enough to spot some of the Big Five and a large variety of mammals, reptiles, insects, birds and plant life.

While you're out on your game drive, the children will be entertained by the friendly camp staff in a programme of age-appropriate activities such as colouring-in and bead-making for the smaller children, and treasure hunts and guided walks for the older children. Back at the camp, a safari dinner will be waiting for you. Afterwards, enjoy the outdoors as you gaze into an endless sky of stars before returning to your suite for an early night's rest.
Day 2: Manyeleti Private Game Reserve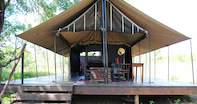 Your mornings will start to the sound of beating drums and the aroma of a warm cup of coffee. Be sure to take a warm item of clothing along as early morning game drives start out before the sun has risen completely. With your trained guide, you will search the thickets of the bush for three hours in search of the diverse wildlife interactions. Be emerged in an aura of freedom as you navigate your way through the unofficial highways of the bush.

During the drive, your guide will stop in a remote part of the bush and serve you some coffee or tea and some refreshments. Your children are welcome to join you on the game drive, otherwise they can stay at the camp in the care of the friendly staff. After your enthralling game viewing expedition, you will be seated for a hearty breakfast. Afterwards, go on a short walking safari for close-up encounters with the smaller creatures and the flora of the bush. This is the ideal time to marvel at the abundant bird species that occupy the region. Children under the age of 16 years old will be entertained by the specialized programme of sports and activities.

fter the walking safari, you can enjoy a siesta or spend some free time at the swimming pool or choosing a book in the library. Lunch is served in the dining area, before departing on your afternoon game drive. The three-hour activity extends into the night, so be sure to take a jacket along. A brief stop in the bush will allow you to sip on a sundowner as you watch the sun set into the horizon. Nocturnal creatures can be spotted during these safari activities, and on occasionally it is possible to witness the attempts and successes of a predator-prey relationship.

Once you return to the lodge, you will have some time to refresh and prepare for dinner. Meals are served either indoors or alfresco around a blazing campfire. Reminisce on the highlights of your safari as you indulge in post-dinner drinks under the stars before attending to your suite for a peaceful night's rest.
Day 3: Manyeleti Private Game Reserve - Johannesburg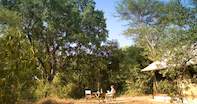 After an early wake-up call and a light snack, you will prepare for a final morning game drive in an open safari vehicle. Don't forget your binoculars and camera to capture the Manyeleti concession and its amazing wildlife in all its glory, with a rising sound providing a picture-perfect background.

After the drive, you will prepare for your departure and then enjoy a final breakfast before saying farewell to your safari getaway in a self-drive road trip back to Johannesburg where you will meet your onward travel arrangements.
Included
Safari tent accommodation which boasts a king-sized bed, soft leather couches, en-suite bathroom with bath, double shower and separate toilet
Meals as per itinerary, including delicious breakfast, lunch and dinner daily
All teas, coffees and afternoon tea
Specially-designed children's program of activities
Daily morning and afternoon/evening game drives in open safari vehicle accompanied by experienced guides and trackers, and other safari activities
Beverages on game drives
Not Included
Transfers to/from the camp
All extras to be settled upon departure from the camp