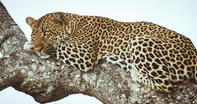 © Robert Hofmeyr
South Africa is located in the southern point of Africa and its splendour is evident in its contrasting environments: the Western Cape and Garden Route have spectacular mountains, a prodigious floral kingdom and endless white beaches.
Dominating the northern end of the Cape Peninsula is Table Mountain, landmark of Cape Town. Near Johannesburg lie the Sterkfontein Caves, a site of international palaeoanthropological renown, and the Kruger National Park.
Namaqualand is splendid when the semi-desert is transformed into a blaze of colourful daisies. Kwazulu Natal is famous for its beaches, the Greater St Lucia wetland, the Drakensberg mountain range and the Zulu and Indian cultures.
Pretoria is the administrative capital of South Africa, while Cape Town is the legislative capital. English, Afrikaans, Zulu and Xhosa are widely spoken. Cultures include Afrikaans, English, Zulu, Xhosa, Tswana, Sotho, Indian and Malay. The currency is the South African Rand.

Wildlife viewing on a safari in SOuth Africa is exceptional all year round. The northern regions (Kruger Park, Gauteng, Limpopo) are best enjoyed during winter (May to September). The temperatures are mild, the bush is dry and less dense and the widllife viewing superb.
The southern parts (Cape Town, Garden Route and Eastern Cape) are most pleasant during summer (October to March). Days are hot and sunny. The best time to see the flowers of the Cape is in Spring. Whales arrive along the Cape Town coast from July onwards. See below for superb South African safari holidays and accommodation options.