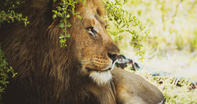 © Robert Hofmeyr
Kruger National Park is the premier South African safari destination and is not only one of the most famous wildlife parks in the world, it is amongst the largest and oldest which draws nature enthusiasts to its ancient bushveld. This exciting wildlife sanctuary can be accessed by road and air transfers to experience the ultimate African safari.
The park spans through six different ecosystems which supports 517 bird species, 147 mammals and 114 reptilian species. Amongst these are Africa's Big Five - lion, leopard, buffalo, elephants and rhino, as well as cheetah, hippos, crocodiles, hyenas, giraffes, a large variety of antelope, birdlife and smaller yet just as fascinating creatures.
Kruger National Park accommodation is offered at luxury lodges and classic South African safari camps. Activities in Kruger National Park includes game drives, bush walking safaris, river cruises, elephant excursions and cultural tours.
See below for exciting Kruger National Park safaris in South Africa.