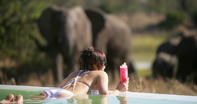 Kapama Private Game Reserve is in the Limpopo Province of South Africa and gives guests quick access to the Greater Kruger Park and Drakensberg Mountains. The reserve is perfectly located Access to this Big Game Reserve is by road and air transfers.
Kapama Private Game Reserve is the perfect destination for those seeking an exclusive Big Game reserve experience. Regular sightings in Kapama includes lion, leopard, elephant, buffalo, rhino, giraffe, impala, wildebeest, cheetah and hyena. The reserve is also home to a myriad of birds such as the gymnogene and knob-billed duck.
apama Private Game Reserve accommodation is offered at luxury game lodges in Limpopo. Activities in Kapama Private Game Reserve includes game drives, bush walking safaris, birdwatching and elephant trekking.
See below for Kapama Game Reserve safaris in South Africa.
On this premier Elephant safari in South Africa you can experience game viewing encounters and unique elephant interactions in Kapama Private Game Reserve....
more
Spot the Big Five and go elephant trekking on this 5 Day Mala Mala and Kapama safari in two of South Africa's most prestige private game reserves...
more