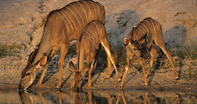 Singita Game Reserve is located within the Sabi Sand Game Reserve, adjacent Kruger National Park. The reserve is completely unfenced and spectacular wildlife flourish through the reserve. The area in which the reserve is located was previously inaccessible for those on safari in Sabi Sand, but can now be accessed by road and air transfers.
Singita Game Reserve is ideal for an exclusive safari, and those seeking to avoid the crowds. Game viewing in Singita Game Reserve is an unforgettable experience and leopard sightings in this privately owned game reserve is incredible.
The dry month of April to October are the best times to visit, when water sources are generally low and wildlife flock around in search for water supply. Newborn wildlife arrive at Singita Game Reserve at the start of the precipitation period, and this special event brings new meaning to game viewing.
Singita Game Reserve accommodation is offered at luxury game lodges for an exclusive South African safari. Activities in Singita Game Reserve includes game drives, bush walking safaris, birdwatching and cultural tours.
See below for Singita Game Reserve safaris in South Africa.
This premier 4 day tour in the Kruger National Park will accommodate you in a private luxury suite with activities focused on viewing a variety of wildlife...
more