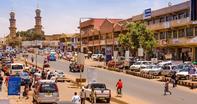 Lilongwe is the capital of Malawi and and is also the largest city in the country. This vibrant city can be accessed by road excursions or air transfers. Lilongwe is located in central Malawi, with quick access to Mozambique and Zambia.
Lilongwe is a former fishing village, and the city is split between Old and New. The Old City is situated at the south and was a booming fishing town, while the New City home to the government ministries and offices.
Lilongwe highlights include the city market, Lilongwe Nature Sanctuary, and the Kumbali Cultural Village. Lilongwe accommodation offers easy access to activities in Malawi's capital city, including visiting the wildlife centre, exploring the markets, cultural interactions and savouring the unique African cuisine.
Kumbali Country Lodge is the ideal location from which to explore the city of Lilongwe and Malawi's natural attractions such as Lake Malawi...
more