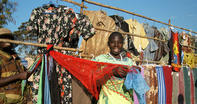 Out of all the African people, Malawians have become masters in the art of 'Africa Time'. This relates to the slow pace of life and lack of urgency that epitomises Africa as a whole and Malawi in particular.
Friendly Faces
Malawians are extremely friendly, and it is polite to greet pretty much everyone with a 'Hello' or a handshake - of which there are many variations. Sometimes your hand will be clasped firmly for an entire conversation. Learn more about the
culture and people of Malawi
Malawi is a long thin landlocked country, which is graced with Africa's third largest lake - Lake Malawi. This massive lake stretches 579km (360 miles) down the eastern side of the country. It has four busy ports and hundreds of fishing villages that help feed the population.
Lake Malawi
In the amazing waters of
Lake Malawi
are many thousands of fish. Some of which are important commercial species that feed much of the population, while others are prized by freshwater aquarium enthusiasts. These are the Cichlids, which are found nowhere else in the world. There are more colourful Cichlid species in the lake than all the freshwater species of USA and Europe put together.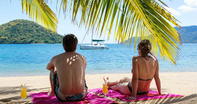 Lake Malawi is also famous for its idyllic palm beaches, water sports (both above and below the water) and pristine offshore islands within the Lake Malawi National Park. The warm waters and, high visibility most of the year means that Lake Malawi offers some of the best fresh water diving in the world.
Malawi National Parks and Wildlife
Malawi also has an incredible variety of habitats from the wild animals of the lowland marshes to high plateau grasslands and mountain peaks. Malawi's national parks and reserves are noted for their natural beauty and contain astonishing bird life and rare antelopes. Big game numbers are limited; however the Big Five are present in Liwonde National Park.
Nowadays Malawi is considered a particularly good destination for first timers to Africa, as it offers a stunning combination of beautiful wildlife parks and beach and island options, all of which are designed to help you relax into 'Africa Time'.
Climate
Malawi has three main seasons; cool and dry, hot and dry and hot and wet. The latter is not the
best time to visit Malawi
as malaria is more prevalent.
Cool Dry Season
May to August is cool and dry with July usually a little unsettled and windy.
Hot Dry Season
The wind drops in about September and the heat builds up through to mid-November. This is a great time to be at Lake Malawi as the water becomes calm and clear and the temperatures are hot.
Hot Rainy Season
It usually starts raining in late November and continues with unpredictable storms until April.
Malawi Travel Guide