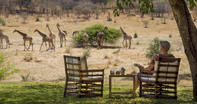 Victoria Falls is one of the 7 Natural Wonders of the World and is located in Zimbabwe. The falls has an indescribable beauty and access to the area is by air transfers or safari excursions. The Victoria Falls is the most breathtaking waterfall in the world and is a must for any Southern Africa safari. Victoria Falls safaris aren't like any other African safaris.
The Zimbabwe side of the Victoria Falls gets more visitors than the Zambian side, and the area is perfect for guests who seek a more vibrant experience of the falls. Exciting opportunities for adrenaline junkies awaits at the falls. An abundance of water based activities and wildlife adventures are delighted at the Victoria Falls.
Victoria Falls accommodation is offered at luxury hotels and lodges in Zimbabwe. Activities in Victoria Falls white river rafting, abseiling, river cruises, bungee jumping, microlighting, bush walking safaris and birding safaris.
See below for Victoria Falls safari recommendations.