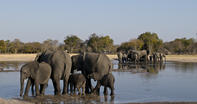 Zimbabwe in Southern Africa, is blessed with spectacular variety and beauty. Victoria Falls are legendary - a curtain of water 1700 meters wide that plunges into the gorge of the Zambezi below. Downstream lie the wildlife-rich and untamed Mana Pools, and Lake Kariba, a huge inland sea.
To the east are the Highlands, fine walking country. In the west is the jumble of granite rocks that make up the bewitching Matobo National Park. Then there are the ruins of past civilisations, massive stone constructions of a culture whose roots have been completely lost.

Harare is the capital, and the local currency is the Zimbabwe Dollar - an unstable currency (take a small amount of cash in US Dollar or Pounds Sterling). English is the official language. Major cultures include the European, Ndebele and Shona Zimbabwe is two hours ahead of GMT.

The dry winter months (May to October) are the most pleasant, however the lush landscapes of summer are best enjoyed from November to April. Zimbabwe experiences low annual rainfall - drought and semi-drought conditions regular. Game viewing on a Zimbabwe safari in Hwange National Park is best during September to October.
See below recommended Zimbabwe safari lodges, tours and Victoria Falls hotel accommodation.