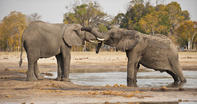 Hwange National Park is situated in the west of Zimbabwe and is the largest game reserve of the country. The park is located on the road from city of Bulawayo to the spectacular Victoria Falls, and is an absolute must visit during a Zimbabwe safari.
Access to Hwange National Park is by road and air transfers. Hwange National Park has a diversity of fauna, flora and birdlife, which means that game viewing is an extraordinary affair. Wildlife viewing is particularly spectacular during the months of July to October, when game flock to the waterholes.
The wildlife of Hwange includes lion, elephant, leopard, hyena, cheetah, gemsbok Hwange National Park accommodation is offered at luxury game lodges in Zimbabwe. Activities in Hwange National Park includes game drives, guided nature walks, birding safaris and cultural tours.
See below for Hwange National Park safaris in Zimbabwe.
Elephant's Eye Hwange Lodge is just the place to stay in the Hwange National Park, Zimbabwe to witness large numbers of elephants and lions....
more
This deluxe Zimbabwe safari escape to the Hwange National Park introduces you to a world where wildlife roams freely and your tented suite makes you feel at home in the bush...
more