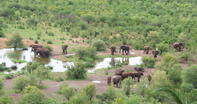 In close proximity to the Victoria Falls is the Zambezi National Park in Zimbabwe. It contains some big game such as elephants, buffalo, lions, giraffe and sable antelope, along with plenty of hippos and crocs. Riverine bird life is plentiful with egrets, herons, cormorants, fish eagles and kingfishers. The Zambezi is renowned for its tiger fish, tilapia and giant vundu (catfish).
Zambezi National Park can be accessed by road or air transfers and accommodation is offered at luxury safari lodges in Zimbabwe. Activities in Zambezi National Park includes game drives, horse riding, fishing, bungee jumping and canoeing.
See below for Zimbabwe safari recommendations in Zambezi National Park.