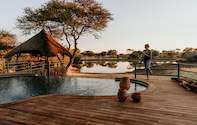 A stay at Okonjima Villa is a nature lover's dream, with its comfortable accommodation and close connection to wildlife conservation in Namibia.
Accommodation: Two separate private suites and two bedrooms
Highlights: Personalized service, insight into wildlife conservation
Activities: Game drives, animal tracking, birding
Okonjima Villa accommodation is in 2 en-suite bedrooms in the Main House, along with a lounge, kitchen and dining area. Additionally, there are 2 separate suites situated on either side of the Main House, offering a private stay for up to 8 adults and 4 children.
Personalized service includes a personal host or hostess, private chef and guide on game drives. Due to the location of Okonjima Villa, only children over the age of 12 years are welcome to stay at the Villa.
Activities include game drives and tracking the captive, radio-collared carnivores on foot alongside a knowledgeable guide. Be educated on the conservation projects of the AfriCat Foundation, and possibly spot one of the elusive leopards that roam the area.