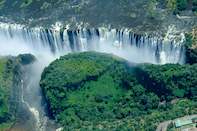 © Shem Compion
Victoria Falls is the most visited destination in Zimbabwe, and is proclaimed as the adventure capital of Africa.
Generally referred to as "Vic Falls", the destination offers thrilling adventure sports (white water rafting, canoeing, elephant interaction, bunjee jumping, gorge swing, crocodile farm, game drives and walks, jet boat excursions, golf, horse riding, quad biking)
Victoria Falls Highlights:
UNESCO Natural World Heritage Site
One of the Natural Wonders of the World
Largest single curtain of falling water in the world
Easy access to Botswana, Zambia and Namibia
'Flight of the Angels' over the falls can be done by light-aircraft, helicopter, microlight or ultralight
Cultural and tribal dancing can be experienced
The Boma experience - traditional dining in a traditional setting
Relax in five-star lodge/hotel with a cocktail at sunset
Sundowner cruising, fishing, bird watching and game viewing on the Zambezi River
Moonlight viewing of the Falls - an unique opportunity to view the Falls and the Lunar Rainbow which takes place during periods of the full moon
Shopping for Shona sculptures at local craft market
Friendly local people
Value for money - accommodation
Best Time to Visit Victoria Falls
Dry Season
September and October allow better photo opportunities at Victoria Falls as there is less spray, but the torrent is slightly less impressive. The dry season is also better for viewing game in the Zambezi National Park.
Rainy Season
Rains between November to April, creating a hot and humid climate. The falls are at their wettest and most spectacular by the end of the rainy season.