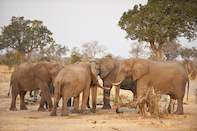 © Justin Fox
Elephanta in Hwange National Park, Zimbabwe.
Famous for its large concentrations of wildlife especially during the winter months, Hwange is the largest national park in Zimbabwe.
Hwange Highlights
Over 400 species of birds occur in the park
Huge elephant and buffalo herds
Several waterholes have raised viewing hides providing hours of great game viewing
Luxury safari lodges with their own traversing areas
Night drives allowed at the private lodges
Best time to visit Hwange
Dry Season: July to September is hot during the day but can be below freezing some nights. During these dry months the animals are concentrated around the man-made waterholes.
Rainy Season: summer rains and the vegetation bursts into life. Birdlife is most spectacular at this time.