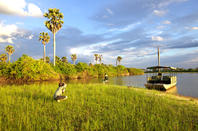 © Rufiji River. Selous
The wilderness areas and game parks of Tanzania are legendary, arguably the best known safari destinations on the continent. Vast plains and countless numbers of animals ensure that Tanzania is foremost in peoples' minds when an African travel destination is discussed.
This reputation is supported by the fact that no fewer than four areas in the country have been designated World Heritage Site status. Apart from the
Ngorongoro Conservation Area
, which has been granted Cultural and Natural heritage status, there are three other sites in Tanzania that are Natural Heritage sites.
Serengeti - Date of inscription 1981
Serengeti National Park is 1.5 million ha of savannah and is home to huge herds of grazing animals, including more than 2 million wildebeest, 900,000 Thomson's gazelles and 300,000 zebras. Predators abound with over 4000 lion and 1000 leopard.
The annual overland migration of vast herds of herbivores to permanent water holes is one of the most spectacular natural events in the world. This migration through the Serengeti and Masai Mara makes the Serengeti - Tanzania's most famous national park.
The Serengeti's endless grass plains and acacia trees are a classic image of a wild and remote Africa. The oldest game reserve in Tanzania, the Serengeti continues to inspire filmmakers, photographers, writers and explorers.
Selous Game Reserve - Date of inscription 1982
The Selous Game Reserve is located in the south of Tanzania. Named after explorer, hunter and legendary soldier Frederick Selous, the reserve was designated a UNESCO World Heritage Site due to the diversity of its wildlife and pristine undisturbed state.
The Selous is home to over 2,100 species of plants, 350 species of birds, 60,000 elephant, 108,000 buffalo and 1,300 rare wild dogs. The reserve has a variety of vegetation zones, ranging from dense thickets to open wooded grasslands.
Guests visiting the Selous can experience the area through a range of activities such as boating safaris, game drives, hiking safaris and fly camping.
Kilimanjaro National Park - Date of inscription 1987
highest mountain in Africa (5895m) and the tallest free-standing mountain in the world, rising 4877 meters above the surrounding plains. Kilimanjaro has two peaks: Kibo and Mawenzi. An image of the towering snow-covered cone, rising majestically from the green foothills, is a popular poster of Tanzania's extraordinary extremes.
It's a natural heritage site because of its exceptional natural beauty and its rare and endangered plants and animal species. Vegetation types vary from low to high altitude: montane forest, moorland, upland moor, alpine bogs and alpine desert.
It is the world's tallest walkable mountain, and walkers will ascend through five different ecological zones to reach the summit. Kilimanjaro represents a powerful life force for the local Chagga people, providing rich volcanic soils for agriculture and an endless source of spring waters.