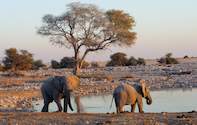 © Shem Compion
The Etosha Experience:
Set around a vast mineral pan that gives the park its name the open plains of Etosha teem with life, drawn by the perennial springs on the edge of the pan. Herds gather in vast numbers around the watering points during the heat of the day. It is not unusual to see thousands of wild animals in one area at a time. The pan provides a dramatic backdrop to this gathering. During the rainy season the pan may gather water which in turn attracts thousands of flamingoes.
Unique about Etosha Perennial springs that draw animals from far and wide during the dry season
Interests: Guided game drives from the lodges and self drive safaris
Taking Your Safari Vacation at Etosha, Namibia
Game viewing in Etosha National Park in Namibia is of the best in Africa, with the added benefit of self-guided safaris in private vehicles. The park is only open for game drives between sunrise and sunset, however the private game reserves on the boundaries of Etosha may provide night drives and nature walks on their own land. The waterholes around the park draw countless animals together at one time.The adjoining reserves to Etosha provide guided safaris in the park and on the private reserves. Guided nature walks can also be enjoyed on the private reserves. Although the Big 5 is not an attraction in Etosha [buffalo missing] the game experience is exceptional.Permanent waterholes at the rest camps in the park provide for a theater-like atmosphere of animals in their natural state. The waterholes are floodlit allowing for night viewing and a different safari perspective.
Best time to travel to Etosha National Park
Etosha can be considered a year round safari destination although the best time to view wildlife is in the dry winter months when the animals concentrate around the waterholes. The rainy season, November to March, is the best time for birding and for viewing the young of many species.
Getting There
The majority of visitors to Etosha National Park in Namibia arrive by road, either on a self-drive safari or as part of group itinerary. The drive from the Namibian capital of Windhoek takes 5 - 6 hours, however it is best to stop and overnight at one of the may wonderful lodges along the way.
There is an airstrip at the park and only one at Mokuti that services the private lodges on the outside of Etosha National Park.
Choose Your Namibia Safari Lodging Style
Private Safari Lodges
There are no safari lodges in the park itself but a range of luxury lodges exist on private reserves outside the park- from intimate all-inclusive luxury tented lodges to five star superior lodges.
Rest Camps
Rest camps with chalets and bungalows provide comfortable en-suite serviced rooms for families, groups and individual travelers. Self-catering and camping options also available.
Etosha Safari in Namibia
See Etosha safari tours and lodges