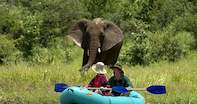 Canoe safari from Victoria Falls Safari Lodge.
The Victoria Falls Experience
Known as the adventure capital of Africa, Victoria Falls is a must-do safari destination. This wonder of the natural world has plenty to offer, from viewing the Falls to rafting the rapids in the gorge 100m meters below.
For adventure enthusiasts Victoria Falls provides many adrenaline-charged activities besides white water rafting such as bungee jumping, gorge swings, and parachuting.
Victoria Falls has more activities on offer than any other safari destination in Africa.
Interests: Victoria Falls tours, flights over the Falls, golf, wildlife safaris.
African Safari Vacation Package to Victoria Falls
'Scenes so beautiful must have been gazed upon by angels in their flight' is how David Livingston described the wonder that is the Victoria Falls. As a natural wonder of the world the Victoria Falls offer visitors the widest range of activities in Africa from the serenity of an evening boat cruise on the Zambezi River to the adrenaline overload of plunging down the raging rapids below the Falls in a white water raft.Aside from viewing from the ground visitors can take a flight over the Victoria Falls in a helicopter or light aircraft for a different perspective. Adventure activities include bungee jumping, white water rafting, gorge swinging and parachuting among many.
Best Time to Travel to Victoria Falls
©Eric Miller
The best time to travel to Victoria Falls is during the winter months when the water levels are not too high and not too low. When the water is very high, visibility is limited as are the activities such as white water rafting.
Getting There
The Victoria Falls are shared by Zambia and Zimbabwe and can be accessed from Victoria Falls town in Zimbabwe or Livingstone in Zambia. Numerous international flights, predominantly from Johannesburg in South Africa, land at both towns' airports.
Roads to the Victoria Falls are in good condition and access is easy. The immigration procedures between the two countries are simple and quick and it is possible to walk across the border to visit each country.
Victoria Falls Hotels

The hotels in the Victoria Falls area range from iconic old style grandeur to more contemporary luxury, but all have easy access to the Falls and the numerous activities on offer. Stanley and Livingstone Hotel offers luxury Victoria Falls hotel accommodation and wildlife viewing in Victoria Falls Private Game Reserve.
Victoria Falls Safari Lodge

Victoria Falls safari lodges differ in size and style, from thatched contemporary to tented safari-style, but all are in great locations, on the Zambezi River or overlooking wilderness areas. Victoria Falls Safari Lodge borders the unfenced Zambezi National Park, home to a multitude of wildlife.
Victoria Falls Safari Tours

Victoria Falls Safari Tours in Zimbabwe and Zambia combine tours of Victoria Falls and Zambezi River cruises with superb wildlife safaris. Adrenaline activities and aerial flights of Vic Falls can all be included. Contact us to tailor-make a Victoria Falls safari tour for you.
Wildlife and Waterfalls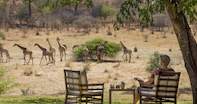 Giraffes at Stanley and Livingstone Hotel in Victoria Falls.
Victoria Falls safaris aren't like any other African safaris. The Zimbabwe side of the Victoria Falls gets more visitors than the Zambian side, and the area is perfect for guests who seek a more vibrant experience...
more
This customizable 3-day getaway in Victoria Falls is the perfect add-on to your Southern African safari experience. See the "Smoke that Thunders" on a guided tour of Victoria Falls...
more