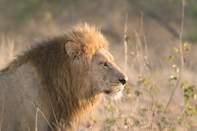 © Shem Compion
The South Africa African Safari Trip Experience:
The world in one country provides a safari travel experience of great diversity ranging from the Big 5 of the private game reserves to the shark interaction and whale watching along the coast. Add to this the beautiful landscapes and diverse flora and fauna and you have the most diverse safari in Africa. Although Kruger National Park is the best known reserve in the country there are more great game parks and reserves to choose from.
Unique about South Africa The widest variety of attractions on the continent, from wildlife to beautiful cities and from traces of our human beginnings to famous battlefields.
Interests: Game drives, night drives, walking and hiking, beach safari, whale watching and shark viewing.
African Safari Vacation Package to South Africa
South Africa is a country blessed with attractions including Big 5 game reserves, unique flora, cultural experiences and history. Recently discovered to be the birthplace of mankind, South Africa is rich in the history of our earliest ancestors as well as remnants of the great African civilizations. With a developed infrastructure the country is easy to travel around in.There are many private game reserves that boast big game, including the Big 5, with the accommodation to cater for the most discerning travelers. For those wanting more affordable accommodation a host of rest camps are available.The history of South Africa provides for all interests. Here is the first place where confrontation between white and black people occurred in Africa, and numerous preserved battlefields bear testimony to the violent past of the country.
Best time to travel to South Africa
South Africa is a year round travel destination with something to experience at any time of the year.
Getting There
The main hub into South Africa is OR Tambo International airport in Johannesburg where most of the world's airlines fly in to. The newly- vamped Cape Town International and the newly-built King Shaka International airport in Durban also take international arrivals.
Most tourist destinations in South Africa are accessible from a host of inter-connected regional airports and small craft airfields.
Access by road is easy from the neighbouring countries Namibia, Botswana, Zimababwe and Mozambique. Immigration is relatively quick and easy and the road network is excellent.
Entry from the sea through South African harbours is an option for travellers arriving on cruise ships or private boats.
South Africa Safari
See South Africa safari tours and lodges