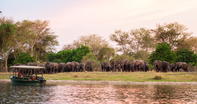 © Martin Benadie
Liwonde National Park in Malawi is located east of the Shire River, on the upper plains. The park is also close to the Mozambican border, and is accessed by road and air transfers. A range of habitats can be witnessed at Liwonde National Park. Mopane woodlands, baobabs, reed swamp and marshland covers the park's surfaces.
The spectacular species of fauna that freely roam Liwonde National Park includes elephant, hippo, crocodile, impala, warthog, vervet monkey, yellow baboon, bushbuck and kudu. The park's bird species is just as incredible and among them are the mighty African fish eagle, pied kingfisher, saddle-bill stork and the goliath heron.
Liwonde National Park accommodation is at established game lodges or camps. Activities at this Malawi wildlife safari park includes game drives, birding safaris, trips to the rhino sanctuary and bush walking safaris.
See below for exciting Liwonde National Park safaris in Malawi.