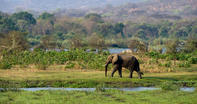 Majete Wildlife Reserve is located in the southern region of Malawi, in close proximity with Blantyre. This unique Malawi safari destination is surfaced with rocky hills, mature miombo, thick grasslands and riverine forests that sets the scene for an unforgettable Malawi wildlife safari.
Majete Wildlife Reserve can be accessed by road and air transfers. The diverse fauna that freely roam the Majete Wildlife Reserve includes the Big Five - elephant, rhino, buffalo, lion and leopard - and other spectacular African species. Incredible conservation efforts helped restored these magnificent creatures back to Majete Wildlife Reserve.
Accommodation is available at luxury bush lodges. Activities include game drives, bush walking safaris, community outreach and cultural tours.
See below for wonderful Majete Wildlife Reserve safari recommendations.