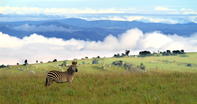 Nyika National Park is located in northern Malawi and covers the entire Nyika Plateau. This Malawi wildlife safari park is the largest in Malawi and exclusive access is by the only dirt road. Rolling grasslands, rock formations, tropical forests, wildflowers and indented valleys creates the scene for an unforgettable Malawi safari.
Nyika National Park's nocturnal animals are unparalleled and these night creatures includes honey badgers, bushpigs, servals, civets, genets and bushbabies. Game viewing at this Malawi park is an unforgettable experience and wildlife such as zebra, bushbuck, leopard, warthog and an abundance of antelope all form part of the unique sightings.
Nyika National Park accommodation is offered at safari lodges and activities in the area includes game drives, night drives, walking safaris and bird watching.
See below for Nyika National Park safaris in Malawi.