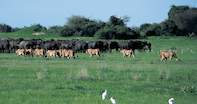 © Lions on the prowl. Duba Plains
Expected African Wildlife Safari Experience Overview:
Accommodation: Xakanaxa Camp - Spacious safari tents, Chobe Game Lodge - Colonial themed rooms and suites
Activities: Bird-watching, game drives, sunset cruises, fishing, game viewing by motorboat, star gazinf, guided walks
Destinations: Okavango Delta - Botswana, Chobe National Park - Botswana
What to expect from this 5 day Authentic Botswana Wildlife Safari:
Experience Botswana from above as you take a charter flight to your first destination, Xakanaxa Camp. Xakanaxa Camp provides accommodation in 12 luxury twin bedded, spacious safari tents with all modern conveniences, guaranteeing a comfortable and stress free stay.
This African safari vacation package includes drives through diverse vegetation while looking out for some interesting animals during your game drives. This area also boasts a prolific birdlife, especially in the spring and summer. Fishing is also an option, with many Bream and Tiger fish waiting to be caught.
Chobe Game Lodge boasts accommodation in Colonial themed rooms and suites, perfect for relaxing in luxury and style. This majestic lodge offers game drives, game viewing by motorboat and romantic sunset cruises.
For the ultimate exclusivity, there are 4 river view suites with private plunge pool and separate lounge area. These suites are luxury and romance at its best.
Days 1 - 2: Xakanaxa Camp, Botswana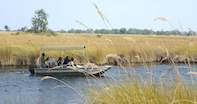 You take a scheduled charter flight from Maun to Xakanaxa Camp, where you will stay for 2 nights on a fully inclusive basis. Accommodation at Xakanaxa Camp is in 12 luxury twin-bedded, spacious safari tents set on a wooden platform with en-suite hot and cold shower, flush toilet and washbasin.
Xakanaxa Camp can accommodate a number of 24 guests. Set on elevated platforms on the banks of the Khwai River each tent has a private viewing deck with comfortable sofas for game viewing on a Botswana safari. Each tent is well furnished with comfortable beds, tables and chairs. The atmosphere is rustic and friendly.
The service is highly personalized and of an outstanding standard. The open fronted dining room is also raised on a wooden platform, placed at the edge of the lagoon. Its thatch roof and reed walls add to the atmosphere of rustic comfort on this Southern Africa safari.
The game drives through this sector of Moremi take one through a large variety of different vegetation types down winding tracks, through Mopane forests and across lush grasslands. The waterways are either forded by vehicles or crossed on rustic log bridges.
Birding in the Xakanaxa area is excellent, especially in the spring and summer months when the migrants are breeding. To the north are the world-famous heronries which attract large numbers of breeding Storks and Herons.
In the summer months the fishing is very good - mainly Bream (Tilapia), but there are also Tiger Fish. All Botswana safari activities are conducted by fully qualified licensed safari guides eager to impart their in-depth knowledge and reveal the secrets of this great wilderness.
Days 3 - 4: Chobe Game Lodge, Botswana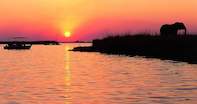 You will be chartered from Xakanaxa Camp to Kasane Airport and from there you go to Chobe Game Lodge. There is 2 nights accommodation at Chobe Game Lodge on a fully inclusive basis.
Game drives by open 4x4-safari vehicle, game viewing by motorboat or sunset cruises on the river cruiser, Mosi-oa-Tunya on the Chobe River. Stargazing and guided walks within the game fenced area is on offer, on this Botswana safari.
All the rooms at the lodge are river facing and are air conditioned with overhead fans, complimentary mini bar, and en-suite bathrooms, each with tea and coffee facilities. All rooms have their very own private terrace.
For those guests who demand the ultimate in exclusivity on their Southern Africa safari, Chobe Game Lodge has 4 river view suites, each with a plunge pool and separate lounge area.
Day 5: Depart
There is a scheduled road transfer from Chobe Game Lodge to Kasane Airportt, where you can continue on home or to your next destination.
Please Note:
All charters have been booked on a seat on charter basis. Due to the nature of travel in light aircraft, mainly because of safety and space concerns, baggage is restricted to 12 kilograms (26 pounds), per person. This baggage must be soft sided so to allow for it to be packed properly.
If you do have extra bags or have suitcases heavier than the specified allowance, please advise your travel consultant in advance as soon as the booking is made so that the necessary arrangements can be made for the baggage to be transferred or stored at an additional cost.