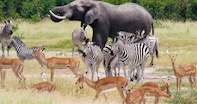 Expected Wildlife Safari Experience Overview:
Accommodation: Kanana Camp - safari tents, Chobe Game Lodge - Colonial themed hotel suites
Activities: Game viewing on foot or by mokoro, motorboat excursions, game drives, game viewing on the Chobe River, star gazing, guided walks,
Destinations: Okavango Delta - Botswana, Chobe National Park - Botswana
What to expect from this 5 day Botswana Wildlife Safari:
Your first stop on your 5 day Botswana Wildlife Safari is at Kanana Camp, set deep in the Okavango Delta amongst lush blessings of nature. This accommodation offers wonderful accommodation in 8 exclusive tents, excellent food and exciting activities for all. Game viewing can be done on foot or mokoro.
Next you will depart for Chobe Game Lodge, a majestic and stylish lodge within the Chobe National Park. This lodge accommodates 100 guests in total luxury and romance and offers a choice of land and water based activities.
Guests can enjoy game drives in 4x4 safari vehicles, star gazing, guided walks, as well as the lodge's swimming pool, and the riverside boma where traditional dancers perform during dinner.
Please Note: This itinerary is an example only, and can be tailor-made to suit your personal requirements. Accordingly, no price is indicated, as this will depend upon a number of factors, such as your chosen routing.
Days 1 - 2: Kanana Camp, Botswana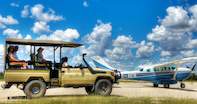 Depart on a scheduled charter flight from Maun Airport to Kanana Camp. Kanana Camp is located deep in the Okavango Delta amongst grass-covered islands formed by fertile, eroded termite hills, dotted with Fig, Palm and other trees providing shade and a look out for predators to spot their prey on the flood plain. The dining and sitting areas are raised on decking encircling.

Kanana Camp game viewing is on foot and by mokoro; you do not have the noise of the vehicle and therefore will experience the bush in its true form. You will be at one with nature without the intrusion of man. On this Botswana Safari there will be just the sounds of the bush and your footfalls on the earth.

The silence will help your ears pick-up sounds of the African bush usually hidden because of the mechanical hum of the car. Motorboat excursions to the Xo Lagoon is offered when the lagoon is in flood and game viewing in 4x4 vehicles is also available.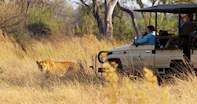 The 8 tents (accommodating 16 beds) are built on stilts to ensure a good view of the floodplains for all guests. The common facilities of Kanana Camp are also built up on stilts overlooking these floodplains. The area is an excellent walking and mokoro area.

Game drives are in Toyota Land cruisers which have been designed specially for game viewing and photography; completely open seating areas and cabs for unhindered photography; seat pockets; reference books; snacks, bottled water, toilet paper, insect spray and a cool box for refreshments; maximum capacity of 7.
Days 3 - 4: Chobe Game Lodge, Botswana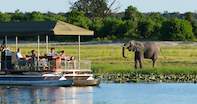 After breakfast and your Botswana Safari morning activity (if time allows) you will
depart on a charter flight
from Kanana Camp to Kasane Airport. Scheduled road transfer from Kasane Airport to Chobe Game Lodge. The only permanent game lodge situated within the Chobe National Park, Chobe Game Lodge is Botswana's premier venue for guests looking for a perfect base to explore the Chobe National Park. The lodge can accommodate up to 100 people in total luxury, offering a
choice of land or water activities
and the most complete game experience in the Chobe areaGame drives are conducted in open sided 4x4 vehicles ensuring maximum visibility, while
game viewing on the Chobe River
is conducted by small, shallow draft and highly maneuverable boats piloted by expert boatmen.
The resident professional guides offer stargazing and guided walks within the game-fenced area. Other
facilities include a large swimming pool
with terrace, a riverside boma area where traditional dancers perform, a business centre, a fully equipped conference room with seating for up to 90 people in cinema style.
An
internet office is available
for those guests needing to keep in touch and a stylish bar with an outside terrace overlooking the Chobe River and a cigar bar with a champion sized billiard table. Chobe also has a reference library with lounge and terrace. Meals are catered for at the terrace restaurant overlooking the Chobe River.
All the rooms at the lodge are river facing and are air conditioned with overhead fans, complimentary mini bar, and en-suite bathrooms, each with tea and coffee making facilities. All rooms have their very own private terrace. For those guests who demand the ultimate in exclusivity, Chobe Game Lodge has 4 river view suites, each with their own plunge pool and a separate lounge area.

Your stay at Chobe Game Lodge is inclusive of accommodation, all meals, and local brand beverages during meal times, unlimited activities, park entrance fees, and laundry service.
Day 5: Depart
After breakfast on the last day of your Botswana Safari, you will be transferred via road to Kasane Airport, in time for your flight back to Johannesburg International Airport.